16 August 2016
Stion's frameless CIGS PV modules power solar array atop retailer's roof
Stion Energy Services (SES) - the turn-key project development arm of Stion Corp of San Jose, CA, USA, which makes CIGS (copper indium gallium selenium) photovoltaic modules – says that a 722kW solar array using frameless modules (which went into operation on 19 May) is now helping to cut electricity costs at the Eastland Plaza store in south Stockton, CA, of California-based grocery chain PAQ Inc (Food 4 Less).
Over a 25 year period, the PV system will offset more than $8.6m worth of electricity costs at what is PAQ's first store to go solar.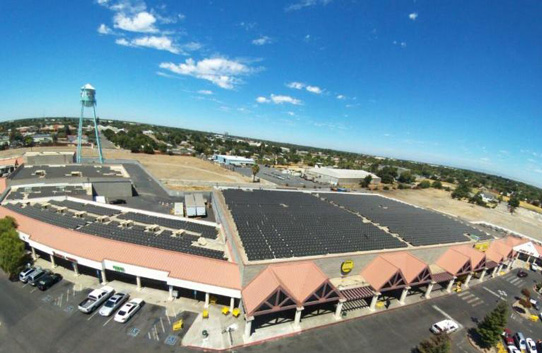 Stion's frameless module enables SES to further improve the power generation capability of its systems. The frameless module weighs 10% less than Stion's framed modules and up to 25% less than crystalline modules and, due to its sleek design, enables Stion to ship 30% more modules per container. SES has also developed a proprietary adhesive solution that is said to enable robust and streamlined installation.
As what is claimed to be the only vertically integrated solar developer with 100% of its manufacturing in the USA, Stion Energy Services' exclusive use of Stion modules has enabled its engineers to identify which balance of system components work best with CIGS technology, compared with developers that use different modules, inverters and racking on all of their projects, says Stion Energy Services' director of engineering Kevin MacKamul, who has over 30 years of experience designing and installing commercial and utility solar projects.
Visit: www.stion.com