8 August 2016
Oclaro's revenue grows for fourth consecutive quarter, up 52% year-on-year
For its fiscal fourth-quarter 2016 (to 2 July, a 14 week quarter), Oclaro Inc of San Jose, CA, USA (which provides components, modules and subsystems for optical communications) has reported revenue of $125.2m, up 24% on $101.1m last quarter and up 52% on $82.2m a year ago. (N.B. Scaling to a regular 13-week quarter equates to $116m.) This fourth consecutive quarter of 7%-or-greater growth took full-year fiscal 2016 revenue to $407.9m, up 20% on fiscal 2015's $341.3m.
By region for fiscal Q4, China comprised 44% of total revenue, the Americas 23%, Europe 16%, Southeast Asia 16% and Japan 2%. There were four 10%-or-more customers, contributing 25%, 12%, 10% and 10%, respectively.
For 40G-and-lower speeds revenue grew to $45.5m (36% of total sales, down from 59% a year ago). This is down 5% on $48.1m a year ago but up 7% on $42.5m last quarter, as growth in 10G sales more than compensated for the decline in the 40G legacy product. "Our 10G business has been stronger than we had initially anticipated," comments CEO Greg Dougherty.
Overall growth was fueled by another strong quarter for the entire 100G product portfolio to $79.7m (64% of total sales, up from 58% last quarter and 41% a year ago). This is up 36% on $58.6m last quarter and up 133% on just $34.1m a year ago (and comparable to Oclaro's total revenue then). Of the $21m increase from last quarter, there was a fairly equal contribution from client-side (datacom) modules, telco discrete products, and the new CFP2-ACO product line. "The demand for 100G-and-beyond product for long-haul metropolitan networks, data-center interconnection and high-end routing remains very strong worldwide," notes Dougherty. "Our strength in 100G-and-beyond is a testament to the strength of the Oclaro's indium phosphide (InP), high-speed DFB in tunable lasers, receivers and modulator chip technology, which differentiate us in the market that we serve. It also shows the value of being vertically integrated," he adds.
Line-side (telecom) revenue has risen further, to $59.7m (48% of total sales), up 25% on $47.7m last quarter and up 48% on $40.3m a year ago. "We again saw very good growth in our lithium niobate modulators and our tunable narrow-linewidth lasers used in 100G current systems for both long-haul and metro application," says Dougherty. "We also had a breakout quarter for our CFP2-ACO and are now running approximately three months ahead of the production ramp that we had projected," he adds. "We also had a very strong quarter for our line-side 10G tunable transceivers for metro access. The line-side (which traditionally contributed just a third of 100G revenue) is projected to reach 50% contribution in calendar second-half 2016 as CFP2-ACO sales increase further.
Client-side (datacom) revenue has also risen further, to $65.5m (52% of total sales), up 23% on $53.4m last quarter and up 56% on $41.9m a year ago. "We continue to see very strong demand worldwide for our 100G pluggable CFP and CFP2 product family," notes Dougherty. "We also had very strong demand for our QSFP28 product [based on the performance of our internal high-speed lasers] that are still in the early stages of revenues generation." Client-side sales were again supply constrained.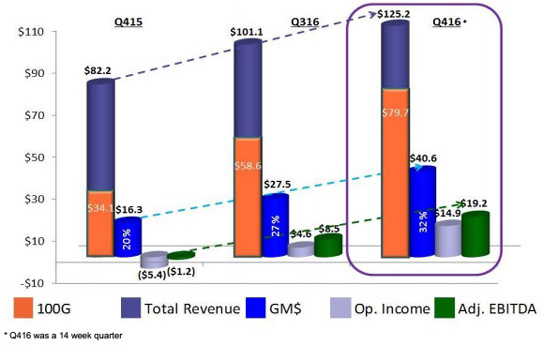 "The results we achieved in the fourth quarter represent an all-time Oclaro record for gross margin and operating income," says Dougherty.
On a non-GAAP basis, gross margin has grown further, from 19.9% a year ago and 27.2% last quarter to 32.4% (or 31.6% on a 13-week scale). This was driven mainly by the growth in 100G sales, the leveraging of manufacturing overhead, and improved factory efficiencies. Full-year gross margin has hence grown from 17.2% in fiscal 2015 to 29% in fiscal 2016.
Operating expenses rose from $22.9m last quarter to $25.7m, due mainly to year-end professional fees and the extra week of expenses in the 14-week quarter. However, OpEx fell as a percentage of sales from 22.6% last quarter to 20.6%. As Oclaro continues to grow its business, it expects OpEx to fall to 20-21% of sales.
Operating income was a record $14.9m (operating margin of 11.9% of sales), more than tripling from $4.6m last quarter and compared with an operating loss of $5.4m a year ago. For full-year fiscal 2016, Oclaro achieved an annual operating income of $25.1m, compared with an operating loss of $38.4m in fiscal 2015.
Net income was $15.1m ($0.11 per diluted share), up from $2.9m ($0.03 per diluted share) last quarter and compared with a net loss of $6.6m ($0.06 per diluted share) a year ago. Full-year net income was $19.3m ($0.17 per diluted share), compared with a net loss of $40.8m ($0.38 per diluted share) in fiscal 2015.
Adjusted EBITDA was $19.2m, up from +$8.5m last quarter and compared with -$1.2m a year ago. Full-year adjusted EBITDA was +$40.9m for fiscal 2016, compared with -$20.9m in fiscal 2015.
Following investments of $15.1m in working capital and prepaid as well as capital expenditure (CapEx) of $14.5m to support expected future growth, cash, cash equivalents and restricted cash fell during the quarter from $106.8m to $96.6m. CapEx for full-year fiscal 2016 was $36m (within the $30-40m range provided at the beginning of the fiscal year), mostly for capacity expansion.
"Entering fiscal 2017, we are well positioned for ongoing revenue growth as our product mix continues to shift towards 100G for both our client- and line-side businesses," says Dougherty.
Driven by the continuing momentum in 100G, for fiscal first-quarter 2017 (a 13-week quarter ending 1 October 2016) Oclaro expects revenue to grow further to $126-134m. Gross margin should be 30-33%. Operating income should be $12-16m.
"Our growth will not be gated by demand but limited by what we are able to produce," says Dougherty. "We continue to run very tight on capacity for most of our 100G product as well as our tunable 10G offerings," he adds. "We continue to see strong demand for our mature 10G transceivers and tunable product driven by Chinese and European customers, as well as global demand for our newer 10G product such as the tunable SFP+. We are continuing to invest to increase our capacity and we'll see the impact starting later this calendar year [2016]," says Dougherty. "This demand should help to offset the expected reduction in our 40G line-side business, which will end in the March quarter (fiscal Q3/2017)," he adds. Oclaro expects revenue for its combined 40G-and-below portfolio to be in the mid-$30m range for the next two quarters, declining to around $30m per quarter in fiscal second-half 2017.
For full-year fiscal 2017, Oclaro expect revenue to grow by at least 30% over fiscal 2016. Targets include gross margin in the mid-30s%, operating margin in the mid-teens, and OpEx of 20-21% of sales. As it continues to invest in its 100G-and-beyond portfolio, Oclaro expects CapEx to rise to $55-65m, again mostly for capacity expansion.
Oclaro reports 100G revenue growth for fourth consecutive quarter, up 94% year-on-year
Oclaro's quarterly revenue grows 8%
Oclaro achieves positive adjusted EBITDA and non-GAAP operating income
Oclaro reports better-than-expected preliminary quarterly results
Oclaro's CFP 100G client-side transceiver capacity expansion compensates for drop in 40G telecom sales
Tags: Oclaro
Visit: www.oclaro.com