22 August 2016
Infrared LED revenue growing faster than overall IR components
Increased adoption of biometrics security in mobile phones, close-circuit television and other consumer applications spurred revenue growth in the global market for infrared LEDs from $201.5m in 2014 to $241.4m in 2015, according to Jamie Fox, principal analyst, LEDs and Lighting, at IHS Markit. While infrared LEDs grew 19.8% year-on-year in 2015, the overall infrared components market fell by 9%. Osram, Everlight and Vishay were the leading suppliers.
The forecast compound annual growth rate (CAGR) of 8.4% for infrared LEDs from 2015 to 2021 compares favorably to overall growth in total infrared component of 4.2%. The total market also includes slower-growth categories like photodiodes and phototransistors, Infrared Data Association (IrDA) transceivers and infrared receivers.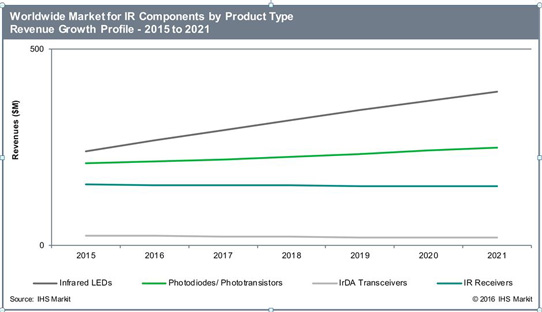 Infrared LEDs have traditionally been used in industrial light curtains, smoke detectors and other low-growth, mature applications. However, upcoming and recent growth is primarily caused by increasing use in closed-circuit television (CCTV) cameras and biosecurity in devices such as smartphones, tablets, laptop PCs and video-game consoles.
Another growing market for infrared LEDs is in touch-screens in point-of-sale terminals and ATM machines, where infrared LEDs are used along the sides of the display, so that touch can be detected by the interruption of an infrared signal across the screen rather than the actual direct impact of touching the screen. Capacitive touch-screens (as used in consumer devices) are not as appropriate for these applications, because the constant use wears out the screens to the point where they become inactive, causing higher maintenance. Also, seamless smooth screens without raised edges are less important in these types of commercial applications than they are in consumer consumer devices, notes the report.
Infrared LED market growing at CAGR of almost 8% to 2020
Tags: LED market IR LED
Visit: https://technology.ihs.com/553294/optoelectronic-components-report-2016