4 September 2014
Veeco launches 31x4"/12x6"/6x8"-wafer EPIK700 GaN MOCVD system
Epitaxial deposition and process equipment maker Veeco Instruments Inc of Plainview, NY, USA has launched the TurboDisc EPIK700 gallium nitride (GaN) metal-organic chemical vapor deposition (MOCVD) system, which combines what are reckoned to be the industry's highest productivity and best-in-class yields with low cost of operation, further enabling lower manufacturing costs for LEDs for general lighting applications.
Since the introduction of the TurboDisc K465i GaN MOCVD system in 2010, Veeco has steadily improved the cost of ownership. In 2011, it launched the first multi-reactor MOCVD system, the TurboDisc MaxBright. Veeco says that its MOCVD TurboDisc technology has been recognized as best in the industry by LED trade associations in each year from 2011 to 2013.
Based on Veeco's proven TurboDisc technology, the new EPIK700 MOCVD system enables users to achieve a cost per wafer saving of up to 20% compared to previous generations through improved wafer uniformity, reduced operating expenses, and increased productivity, says the firm. The system's reactor has more than twice the capacity of current-generation reactors. This increased volume, combined with productivity advancements within the reactor, results in a 2.5x throughput advantage over previous-generation MOCVD systems.
"In addition to higher capacity and throughput, the system contains proprietary technologies within the reactor that improve wavelength uniformity and drive higher yields in a tighter bin," notes Jim Jenson, senior VP & general manager, Veeco MOCVD. "By combining the advanced TurboDisc reactor design with excellent uniformity, higher productivity, proven automation, low consumable costs and improved footprint efficiency, we have significantly improved the cost per wafer," he adds.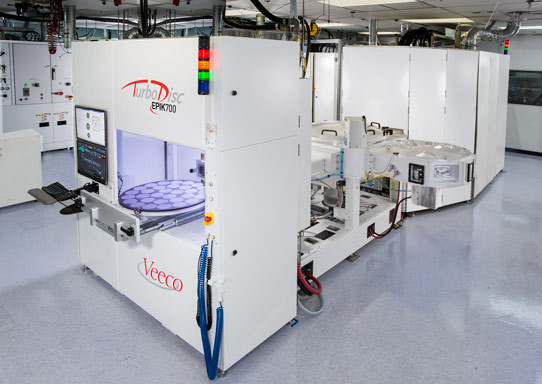 Picture: Veeco's TurboDisc EPIK700 GaN MOCVD system for high-volume LED manufacturing.
Available in one-and two-reactor configurations and said to be the LED industry's highest-productivity MOCVD system, the EPIK700 features technologies including the new IsoFlange center injection flow and TruHeat wafer coil, providing homogeneous laminar flow and uniform temperature profile across the entire wafer carrier. These innovations produce wavelength uniformity to drive higher yields in a tighter bin. Designed for mass production, EPIK700 accommodates 31x4", 12x6" and 6x8" wafer carrier sizes. Users can easily transfer processes from existing TurboDisc systems to the new EPIK700 MOCVD platform for quick-start production of LEDs, says Veeco. Because of the flexible EPIK700 MOCVD platform, more upgrades, added benefits and future enhancements will continue to differentiate the system, the firm adds.
"One of the world's top LED manufacturers has thoroughly evaluated and accepted the EPIK700 due to its production worthiness, stable process and reproducible results," says executive VP William J. Miller Ph.D. "This new product will help our customers further succeed in the solid-state lighting market, by driving down LED manufacturing costs and increasing productivity," he expects.
According to a recent IHS Research report, LED unit penetration is expected to reach 15% in such key markets as China, Japan, North America and Europe by 2016 and to more than double to 40% by 2020.
Veeco launches MOCVD multi-reactor system for HB-LEDs

Veeco launches TurboDisc K465i GaN MOCVD system
Visit: www.veeco.com