11 September 2014
Toshiba launches ultra-compact 1W GaN-on-Si white LEDs in 3535 lens type package
Toshiba Electronics Europe of Düsseldorf, Germany (TEE, the European electronic components business of Tokyo-based Toshiba Corp) has extended its LETERAS family of white LEDs with a new series of ultra-compact devices that combine cost-effective gallium nitride-on-silicon (GaN-on-Si) chips with an industrial-standard 3535 lens type package.
High-performance white LEDs have typically been fabricated on expensive sapphire substrates using relatively small 100mm or 150mm wafers, notes Toshiba. However, LETERAS LEDs use a cost-effective GaN-on-Si process technology that allows GaN LEDs to be produced on 200mm silicon wafers.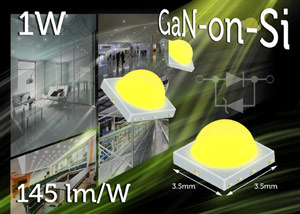 Devices in the TL1L3 series of 1.0W LEDs are supplied in a package with a footprint of 3.5mm x 3.5mm and a height (including lens) of just 2.42mm. Despite their small size, the LEDs deliver typical luminous flux ratings of 112-145 lumens, depending on the correlated color temperature (CCT).
Toshiba says that its latest LEDs with integrated lens are suitable for implementation in tube lights, light bulbs, down lights and ceiling lights, as well as street light and floodlight designs.
The new TL1L3 LED series comprises seven devices offering colour temperatures ranging from 2700K to 6500K. Minimum colour rendering index (Ra) ratings of up to 80 contribute to natural-looking lighting across all target applications, it is claimed. A low typical forward voltage (VF) of just 2.85V (at a forward current of 350mA) helps to keep power consumption to a minimum, the firm adds.
TL1L3 LEDs are rated for operating temperatures between -40°C and 100°C and have a maximum power dissipation of 3.4W. They also offer a very low typical thermal resistance Rth(j-s) from LED junction to solderpoint of only 5°C/W, adds the firm.
Toshiba launches second-generation GaN-on-Si white LEDs
Bridgelux sells GaN-On-Si LED technology/chip-related assets to Toshiba as it focuses on lighting products
Toshiba invests in Bridgelux to boost GaN-on-Si LED lighting
Visit: www.toshiba-components.com/LEDS