22 September 2014
Solar Frontier supplies 21.3MW project in Ube, Japan
Tokyo-based Showa Shell Sekiyu subsidiary Solar Frontier – the largest manufacturer of CIS (copper indium selenium) thin-film photovoltaic (PV) solar modules – has supplied 21.3MW of modules for one of the largest megasolar (utility-scale) power plants, on a 30ha site in Ube City, Yamaguchi Prefecture, Japan.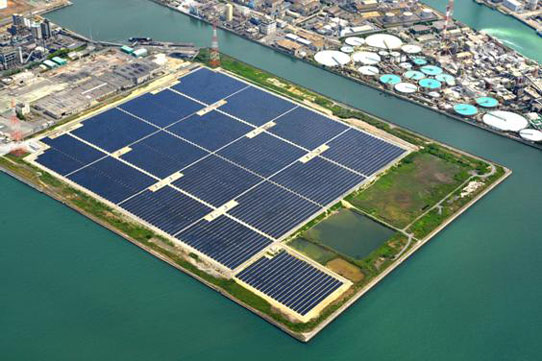 Picture: Aerial view of US Power solar plant.
The plant, which began construction in March 2013 and came on stream in July, is owned and managed by US Power Co Ltd, a joint operating company set up Showa Shell Sekiyu and Ube Group (which operates in six main business segments: chemicals and plastics, specialty chemicals and products, pharmaceuticals, cement and construction materials, machinery and metal products, and energy and environment).
The US Power Plant is expected to generate about 25,010,000kWh annually (equivalent to the electricity used by about 6900 households in Japan) and will reduce CO2 output by about 8300 tons. The electricity generated at the facility will be sold to Chugoku Electric Power Company and has been approved for Japan's solar energy feed-in tariff program.
Tags: Solar Frontier CIS
Visit: www.solar-frontier.com
Visit: www.ube.co.jp