23 September 2014
Lumileds launch Matrix Platform, delivering configurable LED boards, linear flex and modules
Philips Lumileds of San Jose, CA, USA has expanded beyond its LED product offerings to include the Matrix Platform, consisting of turnkey LED solutions using components, optics and LUXEON LEDs assembled on a wide selection of board types. The platform launches with two product lines—the LUXEON XR and LUXEON XF—on rigid and flexible substrates, respectively.
"More than ever, luminaire manufacturers need robust solutions that meet their specific design requirements," says Viral Hazari, product line director for the Matrix Platform. "That need, together with today's time-to-market pressures, inspired our Matrix Platform," he adds. Based on customer requirements, Lumileds can provide LUXEON XR and LUXEON XF solutions designed with any LUXEON LEDs. Additionally, there are both 'off-the-shelf' and 'built-to-spec' options.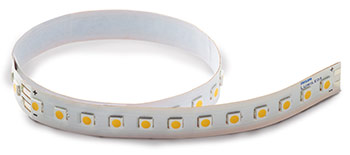 Picture: Lumileds' LUXEON XF-3535L on flexible substrate.
With Matrix Platform solutions, luminaire makers/designers benefit from faster time-to-market, simplified supply chain and access to proven illumination-grade LUXEON LED performance, the firm says. "Lumileds sees manufacturers quickly moving toward boards and modules to meet their time-to-market goals, and indeed we have been working with select customers for some time to understand and enhance the value we could provide with these solutions," says Hazari. The firm's production line in Penang, Malaysia is dedicating 12,000ft2 of capacity to Matrix Platform solutions. "We can rapidly turn around new designs -- in many cases within two weeks of design approval."
Lumileds first rigid substrate module product, the LUXEON XR-3535L for troffer applications, provides uniform, distributed light. Specified at correlated color temperatures (CCTs) of 3000K, 3500K or 4000K and a color rendering index (CRI) of 80, the LUXEON XR-3535L achieves an output of 1320-1515 lumens and an efficacy as high as 160lm/W. For applications requiring a greater degree of design freedom and a flexible substrate (including accent lighting and cabinet lighting), the LUXEON XF-3535L produces 1100-5070 lumens with an efficacy as high as 160lm/W.
Tags: Lumileds
Visit: www.philipslumileds.com