29 September 2014
Cree launches first 1.7kV, all-SiC power module
Cree Inc of Durham, NC, USA has released what it claims is the first all-SiC (silicon carbide) 1.7kV power module in an industry-standard 62mm housing.
Powered by Cree's C2M large-area SiC chip technology, the new half-bridge module exhibits 8mΩ on-resistance and 10-times higher switching efficiency than existing silicon module technology, it is claimed, making it capable of replacing silicon insulated-gate bipolar transistor (IGBT) modules rated at 400A or more.
The performance of the new 1.7kV all-SiC power module allows design engineers to simultaneously reduce the size and cost of magnetic and cooling elements while achieving superior system efficiency and reliability, Cree says. Unlike existing silicon-based systems in motor-drive, grid-tie and utility-scale solar-inverter applications, the new power module also enables lower production costs and the development of smaller, lighter products with a lower overall total cost of ownership, the firm adds.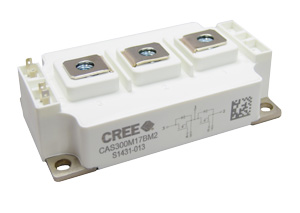 Picture: Cree's all-SiC 1.7kV power module.
"The introduction of Cree's all-SiC, 1700V power module opens the door for SiC devices to become the switching device of choice for high-power motor drives," comments Devin Dilley, director of medium-voltage R&D for Vacon, a supplier of AC drives. "The application of these modules in SiC-based motor drives will enable a reduction in the size and cost of filter components by up to 40% while simultaneously increasing system efficiency," he adds.
The switching efficiency and voltage capability of the new module enables simplified, two-level topologies that are feasible at higher frequencies, eliminating the need to invest in complex, multi-level silicon-based solutions, Cree says. The high power density that can be achieved with the latest half-bridge module further simplifies the implementation of modular system designs and enables extremely low mean time to repair for high overall system availability, it adds.  
"Cree's power-module portfolio enables higher efficiency, improved reliability and lower total cost of ownership," says Cengiz Balkas, VP & general manager Cree Power and RF.
The new all-SiC, 1.7kV, 8mΩ half-bridge module is available as part number CAS300M17BM2 at preferred distributors including Mouser, Digi-Key and Richardson RFPD/Arrow RF & Power. Companion gate-driver boards have been developed in cooperation with Netherlands-based power-systems designer and manufacturer Prodrive. The boards are available through Cree sales channels or directly from ProDrive.
Cree's new all-SiC 300A, 1.2kV 62mm half-bridge module doubles power density for converters up to megawatt level
Cree claims first fully qualified, production-ready all-SiC power module
Tags: Cree SiC power modules
Visit: www.cree.com/Power/Products/SiC-Power-Modules/SiC-Modules/CAS300M17BM2