9 September 2014
Anadigics' power amplifiers enabling 802.11n and 802.11ac WiFi connectivity for North American infrastructure CPE maker
Broadband wireless and wireline communications component maker Anadigics Inc of Warren, NJ, USA is shipping production volumes of its AWL5905 and AWL5910 power amplifiers (PAs) to a North American communications equipment maker. The power amplifiers are being leveraged for new 802.11n and 802.11ac WiFi infrastructure customer premises equipment (CPE).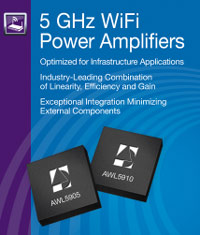 "Adoption of the 802.11ac standard continues to accelerate as consumers and businesses increasingly turn to WiFi networks for data and multimedia connectivity," says Jerry Miller, senior VP of worldwide sales and applications. "As manufacturers develop the newest generation of WiFi infrastructure devices to support this trend, Anadigics' power amplifiers stand out as critical enablers. Our 802.11ac solutions deliver a world-class combination of linearity, efficiency and gain to enable infrastructure devices with higher data throughput at greater range, all while consuming less power," he claims. "These advantages are being validated by production shipments in support of multiple platforms at this top-tier WiFi equipment manufacturer."
Anadigics' 802.11ac WiFi power amplifiers for infrastructure applications leverage the firm's patented InGaP-Plus technology and unique design architectures to offer performance and integration. The AWL5905 delivers high linear power gain of 30dB and ultra-low 2.0% EVM (error vector magnitude) at 19.5dBm, while the AWL5910 provides 31dB of linear power gain and 1.8% EVM at 22dBm output power. This combination of high gain and linearity ensures stable, reliable high-throughput WiFi connectivity in the toughest 802.11n and 802.11ac modulation formats, enabling extremely high transmission data rates, the firm claims.
Anadigics' 802.11ac WiFi power amplifiers integrate a digital PA enable interface that eliminates the need for costly external circuitry. The AWL5905 and AWL5910 also feature an integrated detector that facilitates accurate power control over varying load conditions and extended dynamic range.
The firm says that these performance and integration advantages, coupled with efficiency and thermal characteristics, enable multiple input multiple output (MIMO) designs that consume less power and are more thermally efficient. Due to lower current consumption, Anadigics' WiFi infrastructure power amplifiers also support the stringent power limitations of Power over Ethernet (PoE) equipment.
The compact 4mm x 4mm x 0.8mm QFN package also incorporates RF ports internally matched to 50 Ohms and DC blocked to reduce PCB space requirements.
Anadigics expands WiFi infrastructure portfolio and secures design wins at key OEM
Anadigics launches 802.11ac WiFi PAs for infrastructure and multimedia applications
Tags: Anadigics
Visit: www.anadigics.com