6 October 2014
Chinese LED maker Nanojoin chooses Veeco MaxBright M MOCVD systems for production ramp
Epitaxial deposition and process equipment maker Veeco Instruments Inc of Plainview, NY, USA says that, in third-quarter 2014 China's Suzhou Nanojoin Photonics Co Ltd ordered multiple TurboDisc MaxBright M metal-organic chemical vapor deposition (MOCVD) systems for high-volume production of light-emitting diodes (LEDs) to be used for general lighting applications.
Nanojoin was jointly founded in 2008 by Suzhou New Sea Union Telecom Technology Co Ltd, Suzhou Institute of Nano-tech and Nano-bionics (SINANO) and the Chinese Academy of Sciences (CAS). Covering an area of 150, 000m2, along with a clean production workshop of 24,000m2 and production and testing lines, Nanojoin specializes in the development and production of LED wafers, chips and solid-state lighting (SSL) products. It currently uses both single- and multi-reactor Veeco MOCVD systems in its production fab.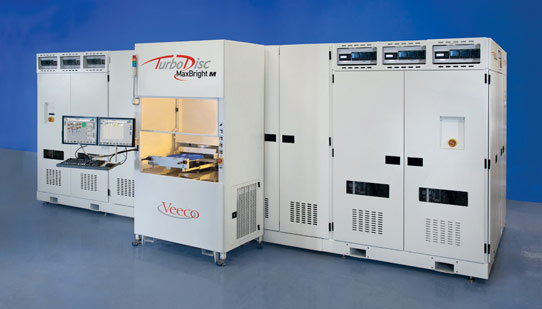 Picture: Veeco's MaxBright M MOCVD system.
"After careful evaluation of all platforms, we have determined that Veeco's MOCVD technology provides the unique advantages needed to successfully ramp LED production," comments Nanojoin's general manager Wang Huaibing. "As we look to capitalize on growing adoption of energy-efficient lighting, we required an MOCVD system that is both stable and productive."
The MaxBright M offers a modular, compact design for improved serviceability and up to 15% improved footprint efficiency compared with the standard MaxBright MOCVD system, says Veeco. The system features numerous layout configuration options to fit various fab spacing requirements, including sub-floor storage, which enables more wafer starts per square foot and a reduced cost of ownership.
Visit: www.veeco.com/mocvd
Visit: www.nanojoin.com