23 October 2014
Stion, Hannah Solar and Washington Gas Energy Systems partner to provide solar energy for water treatment plant
Stion Corp of San Jose, CA, USA, which makes nanostructure-based CIGS (copper indium gallium sulphur-diselenide) thin-film photovoltaic panels, has unveiled a 1MW solar array at the Vidalia Water Treatment Facility in Vidalia, GA, USA.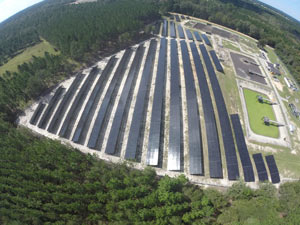 Picture: The 1MW solar array at the Vidalia Water Treatment Facility.
Washington Gas Energy Systems Inc (an affiliate of Washington Gas Light Company and a subsidiary of WGL Holdings) assembled a team of partners that leveraged Stion's solar modules and the development and engineering, procurement & construction (EPC) experience of full-service design/build solar integrator Hannah Solar of Atlanta, GA, USA. Stion's warm-temperature performance is said to provide a significant energy yield advantage over crystalline silicon solar modules, especially in the warm climate of Georgia. This is the first of several Washington Gas Energy Systems-owned projects using Stion's modules.
"We performed a full system analysis with Stion," notes says Hannah Solar's CEO & president Pete Marte. "The total system cost was lower and it produced more energy than the other options we considered."
Operating since February, the project was made possible by the Georgia Power Advanced Solar Initiative (GPASI) and will be owned and operated by Washington Gas Energy Systems. The firm was awarded a contract with Georgia Power to buy 100% of the power produced by the solar array for the next 20 years. The design consists of more than 7000 of Stion's Elevation solar modules connected to transformerless inverters. The plant provides energy for powering the treatment plant and the neighboring homes. The Vidalia project is part of Stion's growing portfolio of installations at water treatment facilities.
Visit: www.stion.com
Visit: www.hannahsolar.com
Visit: www.wgesystems.com