21 October 2014
Chalmers sets 40Gb/s data transmission speed record for 140GHz chip
Researchers at Chalmers University of Technology in Gothenburg, Sweden have designed a microwave circuit that has set a record transmission rate of 40Gb/s for an operating frequency of 140GHz (presented in the session 'Breaking News Papers' at the 2014 IEEE Compound Semiconductor Integrated Circuits Symposium (CSICS) in San Diego, CA, USA (19-22 October).
With an increasing number of consumers, higher demands on image quality and more wireless systems, producing methods for transmitting the enormous amounts of data through the air with the right speed poses a major challenge. Using higher frequencies than are used currently, from 100GHz and higher, would give access to a larger band of empty frequencies, enabling a higher data rate. Researchers worldwide are working to produce data circuits that can transmit and receive signals that are strong enough at higher frequencies.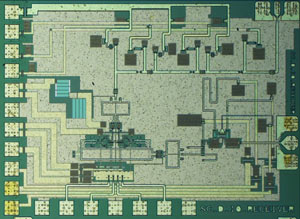 Picture: Chalmers' 1.6mm x 1.2mm 140GHz transmitter chip. (Photographer/source Sona Carpenter).
Semiconductor materials development has enabled manufacture of circuits that can now transmit high-frequency signals with sufficiently high power. "We have designed circuits for signals at 140GHz, where we have a large bandwidth," says professor Herbert Zirath, head of the Microwave Electronics Laboratory at Chalmers' Department of Microtechnology and Nanoscience, who is also employed part-time by Ericsson Research. Designed by Sona Carpenter, Herbert Zirath and Mingquan Bao and fabricated on a 1.6mm x 1.2mm indium phosphide (InP) chip, the 140GHz transmitter circuits incorporate an I-Q modulator, a three-stage amplifier, and a x3 frequency multiplier for the local oscillator. Data-transmission measurements were performed by Simon He. "In laboratory testing, we have achieved a transmission rate of 40Gb/s, which is twice as fast as the previous world record at a comparable frequency," Zirath adds.
The circuits are of interest to Ericsson in terms of transmitting signals to and from base stations and cellular towers. "The heavily increasing amount of data demands new solutions all the time," says Zirath. "The fact that an increasing number of people are watching films wirelessly is the primary reason underlying the need for quicker transmission today," he adds. "It is only a matter of a couple of years before our circuits will be used in practical applications."
The project is being funded by the Swedish Foundation for Strategic Research, and the next step for the project involves moving from the laboratory to the outdoors to test the circuits under real circumstances. Within a few years, the goal within the project is to demonstrate wireless data transfer of 100Gb/s.
Visit: www.chalmers.se/en
Visit: http://csics.org