3 October 2014
Anadigics launches TD-LTE small-cell power amplifiers
Broadband wireless and wireline communications component maker Anadigics Inc of Warren, NJ, USA has launched six new power amplifiers (PAs) optimized for TD-LTE (time-division long-term evolution) small-cell applications.
Like LTE FDD (long-term evolution frequency division duplex), TD-LTE is a 4G telecoms standard. While LTE FDD is the dominant global standard for LTE services today, TD-LTE networks are being rolled out by several major carriers, including China Mobile. According to a recent report by DIGITIMES Research, worldwide TD-LTE subscribers are forecasted to increase from 12.48 million at the end of first-quarter 2014 to 276.2 million at the end of 2016.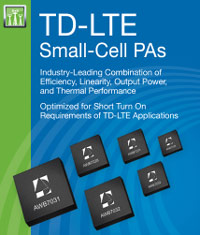 The AWB7031, AWB7032, AWB7228, AWB7231, AWB7232 and AWB7239 TD-LTE power amplifiers are optimized for small-cell applications, including picocells, enterprise-class femtocells, and high-performance customer premises equipment (CPE). They deliver what Anadigics' claims is an industry-leading combination of output power, linearity, power-added efficiency and thermal characteristics. By combining this level of performance with integration and design choices that eliminate the need for complicated external bias circuitry, the small-cell power amplifiers enable manufacturers to easily develop compact wireless infrastructure solutions that are more thermally efficient, consume less power, enable higher throughput, and provide greater coverage and range, says the firm.
"TD-LTE networks are quickly adding subscribers as a variety of providers adopt this high performance standard," notes James Martin, senior director of business development for Infrastructure Products. "Our new TD-LTE solutions deliver optimal performance for the newest generation of small-cell devices," he adds. "Anadigics' TD-LTE small-cell power amplifiers offer an economical path for providers to expand broadband network coverage in support of more subscribers."
Anadigics' complete family of small-cell wireless infrastructure power amplifiers leverages the firm's patented InGaP-Plus technology and design architectures. The AWB7031 and AWB7032 power amplifiers are optimized for ¼-Watt linear output power applications and are housed in compact 5mm by 5mm packages. The AWB7228, AWB7231, AWB7232 and AWB7239 power amplifiers deliver +27dBm output power for ½-Watt linear output power applications. The new small-cell power amplifiers also support the short turn-on-time requirements of TD-LTE applications.
Samples of the new TD-LTE small-cell power amplifiers are available now for qualified programs.
Tags: Anadigics small-cell PAs
Visit: www.anadigics.com