12 November 2014
Soraa launches constant-current MR16 LED lamp to solve compatibility issues
Soraa Inc of Fremont, CA, USA, which develops solid-state lighting technology built on 'GaN on GaN' (gallium nitride on gallium nitride) substrates, has introduced a compatible version of its MR16 LED lamp. Featuring full-visible-spectrum light, the constant-current MR16 LED lamp is suitable as a lighting solution for restaurants, retail, high-end residential and office environments where superior light quality and dimming are essential, says the firm.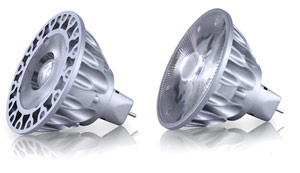 Picture: Soraa's constant current MR16 LED lamp.
Equipped with a standard GU5.3 two-pin base, the constant-current MR16 LED lamp fits into any MR16 fixture and fully conforms to the ANSI/IECE-compatible form factor. Unlike other MR16 LED lamps, the constant-current LED lamp is designed to accept an external driver that supplies it with low-voltage DC input current, eliminating the need to fit a transformer in limited space.
Providing dimming and control flexibility, light output can now be programmed to the desired level when using a programmable or remote driver. The lamp also achieves zero flicker when used with a DC driver and is available in 10°, 25° and 36° versions.
"Incompatibility issues between LED lamps, fixtures, dimmers and transformers continue to hinder the advancement and adoption of LED technology," says George Stringer, senior VP of North America sales. "Our new constant-current MR16 LED lamp overcomes these hurdles, enabling flexibility and choice without compromising on performance and quality," he adds.
The constant-current MR16 LED lamp features Soraa's point-source optics for high intensity and uniform beams, and unique Violet-Emission 3-Phosphor (VP3) LED technology for rendering of colors and whiteness. Utilizing every color, especially deep red emission, VP3 Vivid Color renders warm tones accurately, and achieves a color-rendering index (CRI) of 95 and deep red (R9) rendering of 95 at color temperatures of 2700-4000K. Also, unlike blue-based white LEDs without any violet/ultraviolet emission, the VP3 Natural White is achieved by engineering the violet emission to properly excite fluorescing agents including natural objects like human eyes and teeth, as well as manufactured white materials such as clothing, paper and cosmetics.
Soraa launches MR16 lamps with third-generation GaN-on-GaN LED, boosting efficiency by 30%
Soraa launches high color temperature, full-visible-spectrum Vivid 2 MR16 LED lamps
Tags: Soraa GaN-on-GaN
Visit: www.soraa.com