17 November 2014
Osram's blue and green lasers plus Corning's Fibrance Light-Diffusing Fiber promoted for integrating light sources into product designs
Osram Opto Semiconductors GmbH of Regensburg, Germany and Corning Inc announce a co-marketing agreement to promote Corning Fibrance Light-Diffusing Fiber, a first-of-its-kind technology that embeds lighting into products using Osram laser diodes.
Fibrance fiber uses Corning's glass optical fiber designed for thin, colorful, aesthetic lighting and Osram's blue and green laser diodes. Fibrance fiber is optimized for applications such as automotive interior, architecture, consumer electronics, and major appliances.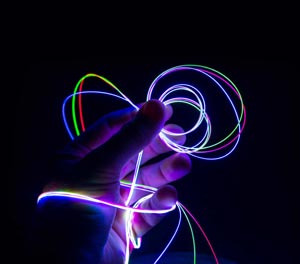 Picture: Corning's Fibrance Light-Diffusing Fiber.
The flexibility and tight-bend capability of the fiber allows it to curve, wrap or contour around objects, while maintaining bright and uniform light. The fiber is so small and thin that it is nearly invisible when the light source is off, enhancing a product's overall aesthetics. Fibrance fibers disperse light, rather than transferring it, allowing it to emit vibrant, clear colors up to 50m in product length.
"We expect the automotive and consumer markets to be early adopters of this technology," says Osram marketing manager, Sevugan Nagappan. "While Fibrance fiber is ideal for vehicle interior applications, the design possibilities and product integration opportunities are truly endless," he believes.
Osram Opto Semiconductors has been a pioneer in the development of direct green laser diodes based on indium gallium nitride (InGaN). The efficiency of the firm's blue and green laser diodes minimizes their temperature increase and improves performance life, it is claimed. In order to emit light, Fibrance fiber must be coupled to such a laser light source.
"With this fiber, designers can enhance a product's appeal and functionality by adding light how and where they want it," says Curt Weinstein, VP & general manager, Advanced Optics, at Corning Specialty Materials. "Our long-term goal is to get Fibrance Light-Diffusing Fiber into the hands of designers and let the capabilities of the product create new lighting possibilities."
Osram featured Fibrance fiber at the Electronica International trade show and conference in Munich, Germany (11-14 November).
Tags: Osram Blue laser diode Green laser
Visit: www.corning.com
Visit: www.osram-os.com