11 November 2014
Osram extends Soleriq P series of LEDs with compact, high-flux P 13
At the Electronica 2014 trade fair in Munich, Germany (11-14 November), Osram Opto Semiconductors GmbH of Regensburg, Germany has unveiled the P 13 as the latest addition to its Soleriq P series of LEDs.
The Soleriq P 13 has a brightness of up to 6800 lumens, making it the highest-power LED in the Soleriq P series. Together with a small light-emitting surface measuring just 13.5mm in diameter, the P 13 is a highly compact and powerful light source for multiple lighting applications, suitable for high-powered spotlights used in retail, museum and commercial lighting.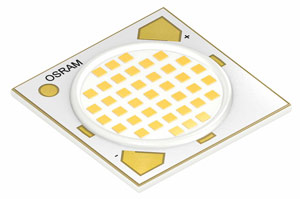 Picture: The new Soleriq P 13 compact high-flux LED for indoor spotlights.
The P 13 is available in two versions with different color rendering indexes (CRIs). The CRI 80 version delivers a brightness of 4000lm even at high temperatures (85°C, 1050mA) and can be overdriven to deliver up to 6800lm. The entire package measures 18mm x 18mm x 1.5mm, facilitating compact and bright lighting solutions for indoor spotlights and high-bay lighting. Alternatively, for ambitious spotlight applications demanding high color quality, small beam angles and a high lumen output, the CRI 90 version delivers 3300lm on average and up to 5600lm in overdriven conditions.
The P 13 has similar light output to the existing 4000-5000lm Soleriq S 19. "In fact, the new Soleriq P 13 has smaller dimensions and is therefore the right choice for more compact lighting solutions," says Marc Dyble, product marketing manager for General Lighting at Osram Opto. Compared to other products in the Soleriq P series (the P 9 or the P 6), fewer LEDs are needed to achieve the same light output. The small light-emitting surface permits a simpler lens design, costing less and enabling more compact lighting solutions. Binning of the LEDs (at a current of 1050mA) takes place at 85°C ('hot binning'). This high temperature very closely matches normal operating conditions and enables the brightness and color values of the LEDs to be precisely determined in line with their subsequent use, says the firm.
Products in the Soleriq family have certain features in common. The LEDs are all based on chip-on-board (CoB) technology (ensuring uniform color and light appearance), while their light-emitting surface is compatible with the international Zhaga standard. The accessories tailored to the Soleriq family (such as connectors, optics and drivers) are all available on the market and can be obtained via the Osram partner network LED Light for you (LLFY).
Osram launches CoB LED offering twice the light from half the surface, targeting compact spotlights
Osram Opto launches its first chip-on-board LED, targeting 1500-4500lm downlights
Visit: www.osram-os.com/osram_os/en/products/product-catalog/