3 November 2014
Osram's Oslon Compact LEDs used for adaptive headlights on new Mercedes Benz CLS Class
Osram Opto Semiconductors GmbH of Regensburg, Germany says that the headlights on the new Mercedes Benz CLS class of cars are equipped with its Oslon Compact high-power LEDs, which can be arranged very close together in the headlight with a high degree of flexibility so that adaptive front lighting systems can be achieved. In addition to this current project, Osram and Daimler AG are working together to develop future innovative automotive lighting systems – as partners in the µAFS research project sponsored by the German Federal Ministry of Education and Research (BMBF).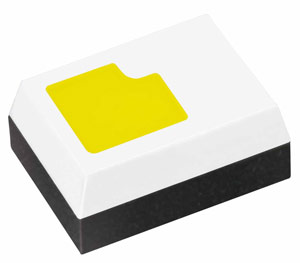 Picture: Oslon Compact LEDs, developed for adaptive lighting systems. (Picture: Osram.)
For the new CLS headlights, the car maker uses an adaptive front lighting system (AFS), with the aim of providing greater visibility in every situation and offering road users better protection from accidents. Each module in the headlight is equipped with 24 Oslon Compact LEDs. Due to the firm's UX:3 chip technology, the LEDs achieve high luminous efficacy even at high currents. With package dimensions of 1.6mm x 1.2mm, the LEDs provide the basis for both AFS and light guide solutions.
Camera and controllers help to achieve best distribution of light
To achieve the optimum distribution of light with the Osram LEDs, the car maker uses a camera mounted on the windshield to cover the area in front of the vehicle. Four controllers in the vehicle perform calculations 100 times per second to determine the best lighting for the driver. LED-based adaptive lighting systems enable the road ahead to be automatically illuminated with exceptionally bright light and with precisely controlled distribution without dazzling other road users, says Osram.
Cooperation for future automotive lighting
In the µAFS project, Daimler AG and Osram Opto Semiconductors are also working with other partners on possible automotive lighting of the future. The aim of the project is to develop the technical principles for a new class of energy-efficient LED headlamps, which may then provide the basis for AFS. "In October 2014 we were able to reach the first major milestone when we presented a new type of LED chip with no less than 256 pixels," notes Osram Opto's project coordinator Stefan Grötsch.
Osram launches yellow Oslon Compact LED for vehicle front turn indicators
Osram Opto unveils smallest LED format for automotive lighting, allowing flexible headlight design
Visit: www.osram-os.com