10 November 2014
Oclaro's quarterly revenue dips while China digests CFP/CFP2 100G shipments
For its fiscal first-quarter 2015 (ended 27 September 2014), Oclaro Inc of San Jose, CA, USA (which provides components, modules and subsystems for optical communications) has reported revenue of $89.2m (at the high end of the $83-91m guidance range). However, this was down about 7% on $96.6m a year ago and $95.9m last quarter due to a temporary delay of CFP and CFP2 100G client-side business in China (as some major customers digested shipments from a very strong fiscal Q4) plus an expected reduction in legacy 40G line-card business. This was partially offset by strong demand for 100G coherent micro-iTLAs and lithium niobate modulators as well as a revival in demand for 10G tunable products (with collective growth for these products of several million dollars).
Sales of 40G & 100G Transmission products were $43.5m, down 11% on $48.8m last quarter but up 12% on $38.9m a year ago (rising from 40% to 49% of total revenue). Sales of 10G-and-lower Transmission products were $38.2m, down 3% on $39.4m last quarter and 24%% on $50.5m a year ago (falling from 53% to 43% of total revenue).
By end-market, Datacom product revenue fell by 15% from $44.2m last quarter to 37.7$m (falling from 46% to 42% of total revenue), due mainly to the drop in client-side 100G CFP and CFP2 business in China. Telecom product revenue stayed level at $44m (rising from 46% to 49% of total revenue) despite product exits in legacy 40G business. Industrial & Consumer revenue was $7.5m, down slightly from $7.7m last quarter (remaining about 8% of total revenue).
There were three greater-than-10% customers: Coriant (rising further, from 24% last quarter to 26%), Cisco (rising from 11% to 13%) and Huawei (falling from 13% to 11%). By region, the Americas contributed 32% of revenue (up from 29%), China 23% (down from 28%), Europe 21% (down from 23%), South-east Asia 20% (up from 14%) and Japan 4% (down from 6%).
On a non-GAAP basis, gross margin has continued to rise, from 12.4% a year ago and 14.1% last quarter to 16.5% (above the expected 12-16%), due to lower inventory charges and better factory utilization from 100G product ramps. This was despite $2m of additional charges from instituting tighter business processes around inventory management as the firm continues to "clean up poor practices from the past [related to Japan operations]".
At the end of fiscal Q4/2014, Oclaro closed the ex-Mintera facility in Acton, MA, USA. This contributed to restructuring-induced reductions year-on-year in both R&D spending (from $17.6m to $13.6m) and SG&A spending (from $20.5m to $14.8m) in fiscal Q1. Total operating expenses have hence fallen by 25% from $38.1m to $28.4m.
Driven by the improved gross margin, adjusted EBITDA (earnings before interest, taxes, depreciation and amortization) loss has been cut further, from -$19.1m a year ago and -$9.4m last quarter to -$8.9m (better than the expected -$13-9m), although this included about $2m of positive adjusted EBITDA from I&C.
Net cash used in operations was $5.7m. Capital expenditure (CapEx) has risen again, from $3m last quarter to $4.7m. During the quarter, cash, cash equivalents, restricted cash and short-term investments hence fell further, from $104.1m to $94m.
"Our revenue, gross margin and adjusted EBITDA results for the first quarter came in at the high end of our guidance," says CEO Greg Dougherty. "Improved financial results reinforce the effectiveness of the major components of our turnaround plan and our strategy to focus the business on 100G and tunable product lines for both client- and line-side markets," he adds.
"We continue to take some of the remaining actions of our restructuring plan," says Dougherty. "Earlier this quarter, we exited one of our three buildings in San Jose by consolidating our high-bit-rate design team and testing lab into our San Jose headquarters."
On 27 October, Oclaro completed the sale of its Industrial & Consumer business in Komoro, Japan to Japan's Ushio Opto Semiconductors Inc and initially received $14.8m of cash (to be reflected in December-quarter results). As part of the deal, 82 staff (equivalent to about $2.2m in quarterly operating expense) have transferred to Ushio. "We not only eliminated a semiconductor fab but also, more importantly, the significant cost and distraction to relocate it," notes Dougherty. "The sale further streamlines our global footprint and allows us to focus on expanding our market leadership in 100G, where we continue to see strong demand," he adds.
Closure of the San Jose and Acton sites plus the sale of I&C business has reduced Oclaro's total number of sites from 20 at the beginning of fiscal 2014 to just eight. Headcount is now 1250.
"While we will continue to do targeted restructuring to continuously improve our business model, we have completed most of the main objectives of our initial restructuring plan and did so about five months ahead of schedule," says Dougherty. "Our infrastructure cost is now consistent with our target breakeven point," he adds.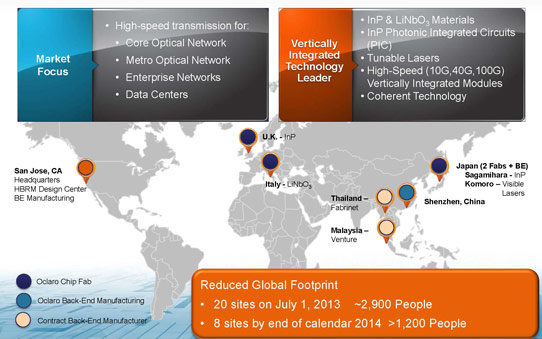 For fiscal second-quarter 2015 (ending 27 December 2014), Oclaro expects revenue of $80-88m. However, excluding $2m from the Industrial & Consumer business up to its sale on 27 October means that revenue should be flat to slightly up on fiscal Q1. In particular, Datacoms revenue is recovering, driven by 100G CFP and CFP2 client-side business in China rebounding (after digesting inventory) plus continued strong demand from North American and European equipment suppliers of high-end routers and packet optical systems. Despite selling the I&C business, Oclaro's core businesses should still show continued improvements in gross margin (13-17%) and adjusted EBITDA (negative $10m to negative $6m).
Demand for 100G coherent micro-iTLAs, lithium niobate modulators and 10G tunable product is expected to continue to grow in fiscal Q2 and beyond. In particular, demand for coherent CFP2 pluggable solutions continues to be strong. "Our market leadership has positioned us well as we expect the revenue for this product to be very meaningful in the second half of 2015," believes Dougherty.
"As we bring new 100G client-side products to market and as we ramp or 100G CFP2 coherent family, these products are highly differentiated and should offer us higher gross margins," says Dougherty. "Volumes from these products will be considerably higher than our current output and can be achieved with little additional manufacturing overhead. The result of this is much improved factory utilization and increased gross margins," he adds.
Also, Oclaro still expects the 40G business to continue to decline, but now over a less rapid two-year time-scale, into mid or late 2016.
"We continue to invest heavily in R&D to develop new products at 100G to serve the long-haul, metro, client and data-center markets," says Dougherty. "We are seeing very strong customer engagements across all of these segments," he adds. At ECOC in September, Oclaro showcased its coherent CFP2 pluggable transceiver and 100G client-side pluggable optics, including a second-generation CFP2 LR4 transceiver. "Our most significant demonstration at ECOC was of our coherent CFP2 transceiver operating at 200Gb/s under a 16-QAM data format using a commercially available DSP [digital signal processor]," continues Dougherty. "This was an important milestone for us as it showed that the CFP2 coherent is capable of operating at 200G and works well with different modulation schemes as well as DSPs from multiple vendors," he adds. "We are the only company that has delivered CFP2 coherent modules and are also the first company to demonstrate a 200G coherent transceiver in the CFP2 package," he claims. "The CFP2 platform leverages our indium phosphide [InP] photonic integration circuit [PIC] technology, which we believe provides us with significant differentiation. Customer feedback on the performance of our CFP2 coherent products has been very positive." In the December quarter, Oclaro will begin building beta units on its new pilot-production line in the UK [at Caswell], which should allow the customer base to be expanded further. The units built there will also be used for both internal qualification as well as by customers for their system qualifications.
"A key element for our success will be our ability to ramp production of the CFP2 coherent," believes Dougherty. "By establishing a pilot-production line in the UK, co-located with our design engineers, we have made a key change to how Oclaro previously launched products into production," he adds. "In addition to the faster cycle times enabled by the proximity of the design engineers, we also have stationed several operators and engineers from our Shenzen manufacturing facility in the UK to work on the pilot line. This team will then be part of the transfer team as we move to volume production in Shenzen in the second half of calendar year 2015," Dougherty explains. "We are in the process of completing a similar approach of piloting new products in the UK and transferring them to Shenzen for production with our new tunable TSFP+ product line as we speak," he adds.
"Leveraging our market success on 100G CFP and CFP2, we are continuing our investment in new 100G client form factors using single-mode fiber for data-centers and high-end packet optical systems," says Dougherty. "CFP4 will be our next product release, followed by a variety of QSFP28 flavors," he adds. "This interest is driven by our unique DFB [distributed feedback] and tunable laser technologies, which are ideally suited for large-scale low-cost deployment of single-mode fiber in hyperscale data-center architectures."
Even without the I&C business (which historically contributed about $8m of revenue, a 50% gross margin and $2m of positive adjusted EBITDA), Oclaro reckons that it is on track with its initial breakeven objective. With the planned ramp of coherent CFP2 product as well as the restructuring efforts, Oclaro's target is still to achieve its adjusted EBITDA breakeven model in the September 2015 quarter (fiscal Q1/2016) with $100m revenue, 20% gross margin and 25% operating expenses.
Oclaro expanding manufacturing capacity for 100G client-side pluggable optics
Oclaro demos first 200G coherent CFP2 pluggable transceiver
Oclaro highlighting coherent pluggable transceivers, components and 100G client-side pluggable optics at ECOC
Oclaro's 100G growth compensating for legacy 10G decline
Oclaro's quarterly revenue falls 7% as drop in 10G and pause in 100G outweighs 40G growth
Oclaro's 40 and 100G transmission product revenue grew 20% for second quarter
Oclaro's strong growth from 40G and 100G transmission products constrained by delays in transferring to contract manufacturers
Tags: Oclaro
Visit: www.oclaro.com