20 November 2014
Mitsubishi Electric launching large hybrid SiC DIPIPM power modules for PV power conditioning
Tokyo-based Mitsubishi Electric Corp has launched its large hybrid silicon carbide (SiC) transfer-mold dual in-line package intelligent power module (DIPIPM), which incorporates a SiC Schottky barrier diode (SBD) and seventh-generation IGBT chips featuring a carrier-stored trench-gate bipolar transistor (CSTBT) structure. Built-in chips include an inverter bridge with IGBT, SiC-SBD and LVIC chips. The dimensions are 31mm x 79mm x 8mm (the same as the large DIPIPM version 4 series).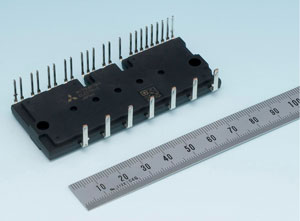 Picture: Mitsubishi Electric's new PSH50YA2A6 large hybrid SiC DIPIPM module.
For sale from 28 November, the new 50A/600V module (PSH50YA2A6) can reduce the power consumption and size of photovoltaic (PV) inverters. Power loss is reduced by about 25% compared with Mitsubishi Electric's existing PS61A99 module for PV applications. Functions include short-circuit protection (with current detection) and control power supply under-voltage protection (with FO output on N-side protection). The IGBT chip has a current-sensing pin that could detect a can of thousands of the main collector current and can be used for external short-circuit protection function. The current-sensing pin eliminates the need for a large external shunt resistor. Together with the modified short-circuit protection scheme, this helps to downsize PV power conditioner inverter systems.
Mitsubishi Electric commercialized its first DIPIPM transfer-mold intelligent power module in 1997, the beginning of its ongoing effort targeting miniaturization and energy saving in inverter systems. Development of the new DIPIPM was partially supported by Japan's New Energy and Industrial Technology Development Organization (NEDO). The PSH50YA2A6 module is compliant with the Restriction of the Use of Certain Hazardous Substances in Electrical and Electronic Equipment (RoHS).
Mitsubishi Electric launches super-mini full-SiC DIPPFC module
Tags: Mitsubishi Electric SiC power modules SiC
Visit: www.MitsubishiElectric.com