5 November 2014
Anadigics expands infrastructure product line with VCOs for point-to-point wireless backhaul
Broadband wireless and wireline communications component maker Anadigics Inc of Warren, NJ, USA has launched a new product family of voltage-controlled oscillators (VCOs), beginning with the AMV8901 (7.3-8.2GHz), AMV8902 (7.8-8.8GHz), AMV8903 (8.4-9.6GHz), AMV8904 (9.0-10.2GHz), AMV8905 (9.5-10.8GHz), AMV8906 (10.4-11.6GHz), AMV8907 (11.1-12.5GHz), AMV8908 (11.5-12.7GHz) and AMV8909 (12.4-13.7GHz).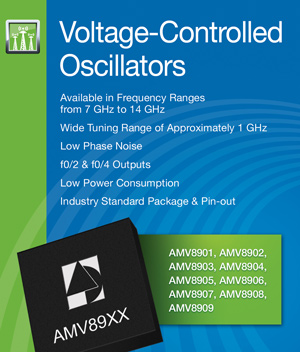 The new VCOs are optimized for point-to-point wireless backhaul networks, which provide reliable access to high-speed data and voice services without fiber-optic infrastructure connectivity. According to a recent report by market research firm iGR, the North American market for wireless backhaul metro-cells is expected to grow at a compound annual growth rate (CAGR) of 146% over the next five years. Anadigics claims that its new VCOs offer outstanding output power and phase noise performance at the industry's highest-order quadrature amplitude modulation (QAM).
"Point-to-point wireless backhaul networks solve the placement, zoning, and construction challenges associated with traditional infrastructure equipment, which requires fiber-optic and telecom connectivity," says Tim Laverick, senior VP of Infrastructure Products. "By leveraging our advanced design capabilities and unique wafer process technologies, we have developed a new family of wireless infrastructure catalog products that expand our market reach into point-to-point applications," he says, adding that the new VCOs enable stable, high-throughput connectivity in the newest generation of wireless backhaul devices.
Using Anadigics' heterojunction bipolar transistor (HBT) process, the VCOs also feature integrated divide-by-2 and divide-by-4 with internal resonators in a compact 5mm by 5mm, 32-lead QFN package to reduce board-space requirements. An industry-standard pin-out with 5V and 220mA supply simplifies RF system design and speeds time-to-market, says the firm.
Samples of the new VCOs are available now for qualified programs.
Visit: www.anadigics.com