7 May 2014
Osram's low-profile, compact, rectangular mid-power LEDs increases design freedom via light guides
Osram Opto Semiconductors GmbH of Regensburg, Germany says that the low-profile rectangular shape of its new Synios E4014 LED enables emitted light to be injected into light guides so that a wide range of design ideas can turned into reality. The mid-power LEDs also have a robust plastic package, a particularly uniform distribution of light, and what is claimed to be an excellent price-performance ratio. The LEDs are intended primarily for visually enhancing 'white goods' and for lighting systems in vehicles and displays.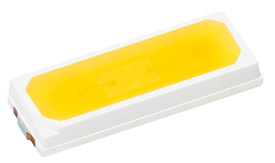 Graphic: Osram Opto's new Synios E4014.
The Synios' low height of only 0.57mm and its footprint of 4mm x 1.4mm provide a suitable basis for low-profile elongated luminaire and lighting designs, such as those for backlighting displays. The LEDs are not equipped with a lens, so they can easily be used for injecting light into light guides. The new E4014 opens up a range of design-oriented lighting solutions, such as integration in the glass shelving in refrigerators and other white goods, car interior lighting, and strip lighting on the floors of buses and trains.
"Refrigerators and washing machines are not exactly renowned for their exciting designs," says Volker Mertens, marketing LED at Osram Opto Semiconductors. "The new Synios is ideal for enhancing their looks and even meeting high requirements in terms of lighting design," he adds. "For similar lighting tasks, but at a lower performance level, we already have the [3.0mm x 1.4mm x 0.8mm] Topled E3014 in our portfolio."
Where each of the two LEDs is used depends on the requirements of the particular application. If brightness and color fidelity are needed, then Synios at a brightness of 41lm (at a drive current of 100mA) and a color rendering index (CRI) of 80 is the right choice. If brightness is not as important, then the 70-CRI Topled E3014 (with 7.3lm at 20mA) is suitable. Power ratings are 0.5W for the Synios E4014 and 0.1W for the Topled E3014.
The beam angle for both LEDs is 120°. The color temperatures of Synios are between 4000K and 5000K and can therefore be tailored to the particular application.
The robust plastic package is one of the benefits of the new Synios, in addition to the uniform distribution of light, high efficiency, flexibility and long life of around 50,000 hours. In view of the intended applications, the ESD (electrostatic discharge) stability is 5kV (versus 2kV for the Topled E3014).
Tags: Osram
Visit: www.osram-os.com