15 May 2014
Mitsubishi shipping sample 1200V hybrid SiC power semiconductor modules for high-frequency switching
Tokyo-based Mitsubishi Electric Corp has started shipping samples of new 1200V hybrid silicon carbide (SiC) power semiconductor modules for high-frequency switching applications. Featuring SiC diodes, the modules achieve high efficiency, downsizing and weight reduction in inverters for power conditioners and other power equipment, uninterrupted power supplies (UPS) and medical device power supplies.
The new hybrid SiC power modules include the following: 48mm x 94mm CMH100DY-24NFH (100A) and CMH150DY-24NFH (150A); the 62mm x 108mm CMH200DU-24NFH (200A) and CMH300DU-24NFH (300A); and the 80mm x 110mm CMH400DU-24NFH (400A) and CMH600DU-24NFH (600A), all with 2in1 connection.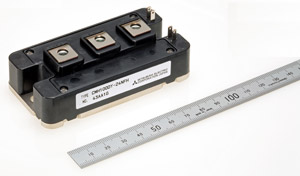 The 48mm x 94mm module of the CMH100DY-24NFH and CMH150DY-24NFH.
Exhibited at the Power Conversion Intelligent Motion (PCIM) Europe 2014 event in Nuremberg, Germany (20-22 May), the modules are the latest addition to Mitsubishi Electric's NFH Series of next-generation hybrid SiC power semiconductor modules which, due to their SiC diodes, reduce electric power loss in high-frequency switching applications.
Features of the new modules include:
(1) 40% reduction in power loss contributes to efficiency, downsizing and weight reduction of total system

Incorporates a SiC Schottky barrier diode (SBD) and silicon IGBT for transistors in high-frequency switching applications.
Contributes to system efficiency because the SiC-SBD does not have recovery current, so power loss is reduced by about 40% through significantly lower switching loss.
Contributes to downsizing and weight reduction of system components (such as reactor and heat sink) due to high-frequency switching and a significant reduction in power loss.
(2) Suppresses surge voltage through internal inductance reduction
A low-inductance package has been adopted for high-frequency switching applications.
The 100A and 150A modules reduce internal inductance by about 30% compared to conventional IGBT module using silicon.
The package is also compatible with conventional power modules for easy replacement.
Development of the modules was partially supported by Japan's New Energy and Industrial Technology Development Organization (NEDO).
Mitsubishi Electric launches SiC power semiconductor modules for home appliances, industrial equipment, railcar traction systems
Mitsubishi Electric to sample SiC power modules for more compact, efficient electronic equipment
Tags: Mitsubishi Electric SiC power modules SiC
Visit: www.MitsubishiElectric.com