30 May 2014
Lumileds' CoB LED arrays hit 10,000lm at 100lm/W, targeting CDM 70-100W luminaire equivalents
Philips Lumileds of San Jose, CA, USA is now delivering what it claims is the highest flux and most efficient LED arrays in higher lumen packages. Its new LUXEON CoB 1211 is suitable for industrial and outdoor applications and is a replacement for 70W- and 100W-equivalent ceramic discharge metal halide (CDM) lamps. As the latest addition to Lumileds LUXEON chip-on-board (CoB) arrays portfolio, the CoB 1211 delivers efficacy of 100-130lm/W, depending on the color temperature and color rendering index (CRI) of the luminaire.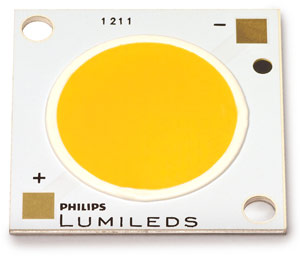 Picture :Lumileds' new LUXEON CoB 1211 LED array.
Specifically, the CoB 1211 achieves cool-white output exceeding 10,000lm and 100lm/W at 70CRI, while achieving a light emitting surface (LES) of only 19mm. "The LUXEON CoB 1211 has the best combination of a small light emitting surface and high efficacy at its specific lumen package," reckons product line director Eric Senders.
Lumileds says that its LUXEON CoB products enable low-cost luminaire design that results in what is claimed to be the highest-flux LEDs with low thermal resistance substrates. They also reduce heat-sink needs and - with an existing ecosystem of compatible holders, drivers and optics - enable faster time to market, adds the firm.
Lumileds unveils chip-on-board LED arrays for PAR38-equivalent lamps and spotlights

Lumileds boosts LUXEON CoB LED arrays to lumen range of 1000-7000lm and efficacy of 130lm/W
Tags: Lumileds
Visit: www.philipslumileds.com/LUXEONCoB