26 May 2014
Cree launches 200lm/W XP-L LED, boosting performance by 50% as drop-in upgrade for XP-G
LED chip, lamp and lighting fixture maker Cree Inc of Durham, NC, USA has introduced the XLamp XP-L, which is claimed to be the first commercially available single-die LED to achieve efficacy of up to 200 lumens per watt (LPW) at 350mA. Delivering up to 1226 lumens in a 3.45mm x 3.45mm package, the XP-L enables an immediate performance increase of 50% or more as a drop-in upgrade for lighting designs based on Cree's XLamp XP-G LEDs.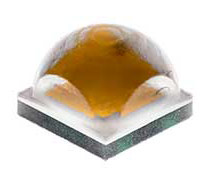 Picture: Cree's new XLamp XP-L LED.
"Its next-level performance enables us to create the next generation of light output and efficacy for our directional lighting products," comments Mike Joye, president of landscape lighting fixture maker Auroralight Inc of Carlsbad, CA, USA. "Since XP-L uses the existing XP footprint, we can expand our product lineup quickly and without the burden of increased development time and cost that would be expected for such a significant performance enhancement."
Cree claims that, as the brightest member of the industry's only family of high-density-class discrete LEDs, the new XP-L also touts the industry's highest optical control factor (OCF), a measurement of the impact that LED size and performance have on directional lighting applications. With its high OCF, the XP-L can enable lighting manufacturers to improve the performance of existing lighting designs in the XP footprint, reduce the size and cost of new designs, and create innovative new solutions to address applications ranging from lamps to stadium lighting, adds the firm.
Characterized and binned at 1050mA (85°C), the XP-L LED is available with a color rendering index (CRI) up to 90 and color temperatures ranging from 2700K to 8300K. As a successor product to the XLamp XM-L2, lighting manufacturers seeking ENERGY STAR qualification can use just 3000 hours of LM-80 data, potentially saving up to four months in the approval process, Cree notes.
Product samples are available now and production quantities are available with standard lead times.
Visit: www.cree.com/LED-Components-and-Modules/Products/XLamp/Discrete-Directional/XLamp-XPL