15 May 2014
Cree's new all-SiC 300A, 1.2kV 62mm half-bridge module doubles power density for converters up to megawatt level
Cree Inc of Durham, NC, USA says that its silicon carbide (SiC) technology continues to enable smaller, lighter, more efficient and lower-cost power systems with a new all-SiC 300A, 1.2kV half-bridge module. Packaged in an industry-standard 62mm housing, the new module is said to reduce energy loss due to switching by more than five times compared to the equivalent silicon solution. This efficiency enables for the first time, it is claimed, all-SiC high-power converters rated up to the megawatt level, extending Cree's SiC chip technology into high-current power modules.
"The drop-in feature of Cree's new all-SiC power module allows us to achieve 99% efficiency while reducing the power module count by a factor of 2.5 in our existing HF induction heating systems," comments John K. Langelid, R&D manager at EFD Induction. "These benefits are greatly valued as a reduced cost of ownership by our end customers."
The new all-SiC 62mm half-bridge module's switching efficiency and performance allow designers to reduce the amount of magnetic and cooling elements, delivering double the power density and a lower system cost while also reducing end-user cost of ownership, claims Cree. Offering a simplified two-level topology that is feasible at higher frequencies, the new module can also eliminate the need to invest in multi-level silicon-based solutions.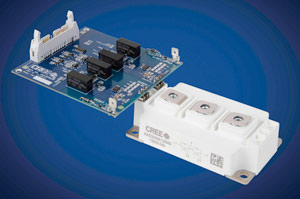 The new SiC power module is available with multiple gate driver options and is pin compatible to standard 62mm half-bridge modules, including IGBT modules rated at 450A or more, allowing designers to quickly and easily evaluate the module's capabilities.
"Utilizing our success in large-area SiC power devices, we have extended the benefits of SiC power modules to the 100kW to 1MW power range for applications such as induction heating, central solar inverters and active front-end (AFE) motor drives," says Cengiz Balkas, general manager & VP, Cree Power and RF. "These new power modules are introduced at a breakthrough price-performance point that unlocks immediate cost savings in these applications," he reckons. 
The new CAS300M12BM2 all-SiC 300A, 1.2kV half-bridge module will be available at preferred distributors such as Mouser, Digi-Key and Arrow's RF & Power Business, priced at $451 each for 1000-unit quantities. Companion gate drivers are also available from Cree and Prodrive.
Cree claims first fully qualified, production-ready all-SiC power module
Tags: Cree SiC MOSFET Schottky SiC power modules
Visit: www.cree.com/power/CAS300M12BM2