1 May 2014
Aixtron's quarterly orders the highest in over two years
For first-quarter 2014, deposition equipment maker Aixtron SE of Aachen, Germany has reported revenue of €43.9m, down 14% on €51.1m last quarter but up 9% on €40.2m a year ago.
Of total revenue, 73% (€32.1m) came from equipment sales and the remaining 27% from spares and service sales (similar to a year ago). The largest equipment market sector is LEDs (73% of revenue). Next largest is silicon equipment for the production of DRAM memory chip. On a regional basis, 79% of revenue came from Asia, 17% from Europe, and 4% from the USA.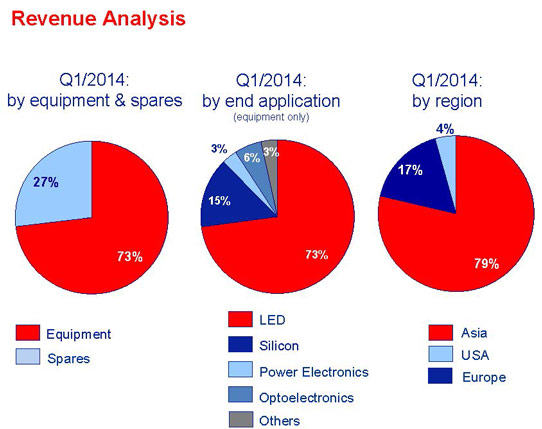 Capacity utilization rates at leading LED makers remain at relatively high levels and demand for LEDs continues to rise. But, despite this, there was still no noticeable increase in investments in LED manufacturing capacity expansions in Q1/2014, says the firm.
Impacted by a less favorable product mix, gross margin has fallen from 34% last quarter to 25%. However, this is still a big improvement on -119% a year ago (negative, due to inventory write-down and other restructuring costs).
Operating expenses have fallen significantly, compared with €28.6m a year ago and €30m last quarter, to €21.7m, due partly to restructuring charges included in the previous year's figure plus the firm's ongoing cost optimization program (part of the firm's 5-Point-Program plan launched a year ago) that has significantly lowered the firm's fixed-cost base. In particular, while general & administrative expenses fell year-on-year by just 6% to €5.1m, selling expenses fell by 43% to €3.9m. R&D expenses have fallen further, from €16.6m a year ago and €15.8m last quarter to €13.7m, although this is still a relatively high level (31% of revenue), underlining the strategic importance of Aixtron's internal R&D capabilities, says the firm.
Consequently, EBIT (operating loss) has improved from -€76.3m a year ago and -€12.6m last quarter to -€10.9m (an EBIT margin of 25% of revenue – level with last quarter but a big improvement on -190% a year ago). This was due mainly to inventory write-downs and restructuring charges included in the previous year's figures, but it also reflects the reduction in operating costs mitigating the losses related to the low sales volumes (particularly in the core market for LED manufacturing equipment).
The operating loss plus tax- and restructuring-related payments meant that free cash flow has fallen further, from €9.3m a year ago and -€0.2m last quarter to -€13.8m. During the quarter, cash and cash equivalents hence fell from €306.3m to €292m (with no debt).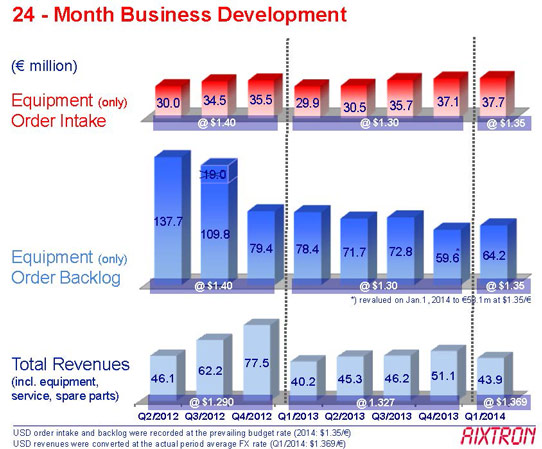 Equipment order intake was €37.7m, up 26% on €29.9m a year ago and remaining relatively steady (up 2%) compared with €37.1m last quarter - still at low levels but the fourth quarter of sequential growth and the highest in more than two years. Order backlog of €64.2m at the end of Q1 was down 18% on €78.4m a year ago but up 10% on last quarter's €58.1m (revalued as of 1 January at the exchange rate of 1.35 US$/€ valid at that time).
"Sentiment among customers is improving as the growth in the LED market drives the customers' profitability," comments president & CEO Martin Goetzeler. "According to leading market research firms, the LED market demand will continue to grow. This positive outlook, in combination with our new MOCVD tool to be launched in the second half of this year [currently being sampled in Greater China], underlines our confidence in our future development." Goetzeler reiterates the importance of consistent R&D investments: "Independent of current market developments, we continue to maintain a strong focus on R&D, providing for a competitive technology portfolio and supporting future business development. We will continue to monitor these investments very closely - in line with our ongoing focus on cost management and the improvement of processes which are amongst others central elements of our 5-Point-Program," he adds.
"We are seeing a slight pick-up in demand for equipment from LED manufacturers, but that pick-up is not strong enough for us to change our guidance for 2014," says Goetzeler. Aixtron has hence reiterated its guidance (given at the end of February) for full-year 2014 revenue to be in line with last year's (which was €182.9m). The firm does not expect to be profitable on an EBIT basis. Nevertheless, management expects a year-on-year improvement in earnings due to progress made in cost savings and restructuring.
"Aixtron's most immediate growth opportunity is in LEDs, and it is starting to feel as if another tipping point for LED adoption within general lighting is imminent," says Goetzeler. "Prices of LEDs have halved over the last 24 months, and 60W-replacement bulbs are now available at reasonable prices in most major markets. In Germany, some 60W-equivalents are selling for as low as €9.99, and in the USA, Home Depot is currently selling a 60W Cree replacement LED below $10," he adds. "Market research firms are assuming enormous growth in the LED market in the coming years." According to the market research firm IHS from December 2013, the market for general lighting LEDs is expected to grow from €495m shipped units in 2013 to €3.6bn shipped units in 2020. The consultancy firm McKinsey estimates that by 2016 nearly half of the world's spending on lighting will be on LED luminance.
"We not only believe that Aixtron is well positioned in LEDs but also, thanks to our continuing investment in R&D, that we have a sustainable opportunities in the silicon and organic semiconductor technologies, as well as in compound semiconductors, for example for power electronics," says Goetzeler.
Aixtron's business model should allow it to become profitable as equipment and spares demand volumes reach €250m annually, with gross margin of 40% and operating expenses (OpEx) of €100m.
Aixtron's quarterly revenue rises 10% in Q4/2013, but demand remains subdued
Aixtron raises €101m from capital increase
Aixtron's recovery program improves earnings, despite growth remaining subdued
Aixtron cuts losses as revenue rebounds 13% in Q2
Aixtron outlines 5-Point Program to return to sustainable profitability
Aixtron's revenues and orders continue to struggle in Q1
Visit: www.aixtron.com