27 March 2014
Samsung launches flip-chip LED packages and modules for size-sensitive lighting applications
South Korea's Samsung Electronics Co Ltd has introduced a new lineup of flip-chip LED packages and modules offering enhanced design flexibility and a high degree of reliability, for use in LED lighting such as LED bulbs, MR/PAR and downlights.
"By utilizing an advanced flip-chip technology, Samsung has made significant improvements to its LED packages and modules," says Bangwon Oh, senior VP, LED strategic marketing team. "Our new Samsung FC and FCOM solutions also strengthen our overall line-up of LED component solutions."
Samsung's new flip-chip (FC) LED package and flip-chip on module (FCOM) solutions feature what are claimed to be highly efficient and versatile LED structures, created by flipping over blue LED chips and adhering phosphor film to each of them. Unlike conventional LED packages that dispense phosphor and then place a plastic mold over each chip, Samsung's FC package technology can produce LED packages down to a chip-scale size without any mold, enabling more compact lighting fixture designs.
Samsung's new FC and FCOM series can be driven at a current higher than that of conventional LED components, and have low thermal resistance. The low thermal resistance improves the reliability of the FC and FCOM solutions, resulting in higher flux and a decrease in the number of packages needed, plus a reduction in the size of the circuit board, reckons Samsung.
Also, by attaching a cell film, each package gains uniform thickness and lower color deviation. The FC and FCOM solutions hence provide a high level of color consistency and ensure the chromaticity control of MacAdam 3-step ellipses.
The new FC and FCOM LED solutions include a mid-power LED package (LM131A), a high-power LED package (LH141A) and an LED downlight module, all featuring the new flip chip technology.
Flip-chip mid-power and high-power LED packages
The LM131A and LH141A flip-chip packages feature compact form factors of 1.22mm x 1.22mm and 1.4mm x 1.4mm, respectively. By excluding a plastic mold, the two packages can function at a high current level in a highly reliable manner, even after long hour of use, says Samsung. These advantages make them suitable for use in LED lighting applications requiring a small form factor with high light output, including LED bulbs and spotlight products such as MRs and PARs. In addition, the use of a phosphor film assures color quality that satisfies the MacAdam 3-step, adds the firm.
FCOM for LED downlight fixtures
Compared to a chip-on-board (COB) engine, which has a fixed wattage, the new FCOM permits simple adjustments in the number of FC LED packages to make the module compatible with a variety of electrical drivers of different wattages, allowing greater design flexibility, says Samsung.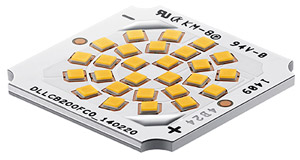 Picture: Samsung's flip-chip on module solution.
To create a downlight with 1000lm output and 100lm/W luminous efficacy, the FCOMs require a 1.7cm x 1.7cm circuit. Such a small form factor suits size-sensitive LED lighting applications, including LED bulbs, MR/PAR spotlights, downlights and even cove lighting, the firm adds.
The FCOMs satisfy the MacAdam 3-step and can support MacAdam 2-step (depending on user needs) due to the color consistency of the chips and a color rendering index (CRI) of at least 80. The new FCOMs also offer a range of correlated color temperatures (CCT), from 2700K to 5000K.
The new LED solutions are being showcased in booth B04, Hall 6.2, at the Light and Building 2014 trade fair in Frankfurt, Germany (30 March – 4 April). The products will be available on the market in second-quarter 2014.
Visit: www.samsung.com