11 June 2014
LED market growing 9% in 2014 to $16.6bn
After the recession in 2011 and 2012, the LED industry saw a turning point in 2013 when the die and package LED markets rose 8.3% from 2012 to about $15.188bn, according to the 'Global and China LED Industry Report, 2013-2014' from Research In China. In 2014, the LED market is continuing to recover, growing 9% from 2013 to $16.562bn. However, the market is expected to slow down in 2015 due to oversupply and a new round of price wars that may arise.
The global LED industry can be divided into four clusters. First, Europe and America underline general lighting, with an emphasis on high reliability and high brightness. Second, Japan embodies the most comprehensive technology, performing outstandingly in both general lighting and backlight displays. Besides, it also targets general lighting, automobiles, mobile phones and TVs. Third, South Korea and Taiwan target laptop display backlighting, LED-TV backlighting and mobile phone backlighting with large shipments, low unit price and low margin. Last, mainland China focuses on AlInGaP (aluminium indium gallium phosphide), outdoor displays, advertising screens and signal lights, which require low technology and reliability, and in these fields customers are scattered and the unit price is low.
From 2011 onwards, a large number of mainland Chinese enterprises have entered the LED industry, causing panic, says the report. In reality, none of the mainland Chinese enterprises (including the giant Sanan Optoelectronics) is capable of producing white LED chips or grasping the related patents, the report adds. Mainland China therefore has to import or purchase all the white LED chips it needs from foreign companies.
Mainland Chinese LED enterprises rely on local government subsidies, which were huge in 2010-2013. For example, Elec-Tech International was subsidized with RMB270m in 2010, RMB311m in 2011, RMB224m in 2012 and RMB315m in 2013; but the firm's net income was only RMB4.6m in 2013. Without these subsidies, the company would be in a serious deficit. In 2014, Sanan Optoelectronics has obtained RMB4bn from Xiamen's government, which is keen to attract the firm back from Wuhu to Xiamen.
Many mainland Chinese LED downstream enterprises are characterized by small scale, severe homogenization and intense price war. They are unable to get government subsidies or conduct financing in the stock market. Consequently, in 2014 many of them may go bankrupt, reckons the report.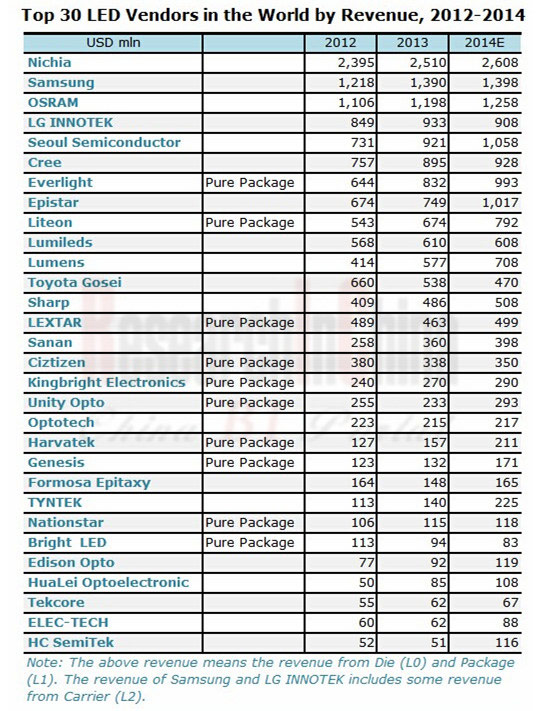 Since 2013, LED industry development has been mainly in the packaging field. In the future, LED cost reduction will depend on packaging rather than epitaxy, it is reckoned. Packaging comprises more than 50% of the LED chip cost. Currently, chip-on-board (COB) packaging and flip-chip packaging are not only the most promising types but also represent the future direction.
COB performs strikingly in street lighting and high-power general lighting. However, it is inferior to flip-chip in fields where volume is important, such as TV back-light units (BLUs). In addition, flip-chip's cost advantage is more obvious. From the perspective of cost and application, COB will become the future mainstream in lighting design, the report reckons.
Flip-chip made its debut in 2008, and became mature in early 2012. Its biggest advantage lies in the fact that it can enter surface-mount technology (SMT) production lines directly under high current without wirebonding and manual welding. Also, it is small in size. The market is forecasted to leap from $1.5bn in 2013 to $5.5bn in 2017. In the BLU field, flip-chip will become the mainstream package type, it is forecast.
Prior to 2014, LED cost cutting concentrated on epitaxy, so epi vendors witnessed a sharp decline in profits. Many of them even exited the industry due to incurring losses. After 2014, packaging factories will suffer the cost-cutting pressures, so some of them with poor technical capabilities may see falling profits, forecasts the report.
Tags: LED market
Visit: www.researchinchina.com/Htmls/Report/2014/6881.html