3 June 2014
Ferrotec launches mid-sized Auratus enhanced e-beam metallization system
Materials, component and precision system supplier Ferrotec Corp, whose Temescal division of Livermore, CA, USA manufactures electron-beam-based evaporative coating systems, has unveiled the Temescal UEFC-4900, a mid-sized ultra-high-efficiency electron-beam metallization system for lift-off compound semiconductor applications.
A smaller system that is optimized for 100 and 150mm production wafer processes, the UEFC-4900 offers all the benefits of the Auratus deposition process enhancement methodology, producing near-perfect uniformity while delivering a reduction of up to 40% in material consumption, resulting in significant cost savings on process materials like gold and platinum compared to traditional box coaters.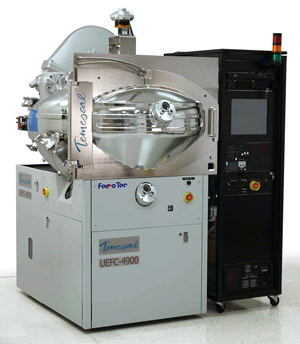 Picture: The new Temescal UEFC-4900 system.
The UEFC-4900 is designed for active compound semiconductor production environments that use electron-beam evaporation and lift-off coating processes. It features a conical-shaped vacuum chamber that doubles the wafer capacity of the system compared to the similarly sized Temescal FC-2800. The system also features a patent-pending High-Uniformity Lift-off Assembly (HULA) design that uses a dual-axis motion to optimize collection efficiency.
"With the UEFC-4900, we are bringing our most advanced Auratus process enhancements to customers operating 100 and 150mm production lines traditionally served by our FC-2800 system," says Temescal's managing director Gregg Wallace. "From its unique chamber design to the HULA for wafer handling, the UEFC-4900 pumps down faster, coats more wafers, and runs more batches per day than the comparably sized FC-2800," he adds. "But the real power of this system is its precision, producing near-perfect uniformity while reducing process material consumption by up to 40%. For IDMs [integrated device manufacturers] and foundries, this equates to better quality devices that cost less."
The UEFC-4900 features significantly increased wafer production capacity, since it can process up to 25 150mm wafers in a batch (more than double the capacity of the FC-2800, with a similar footprint and power consumption).
With its unique conical-shaped chamber and multiple cryopumps, the UEFC-4900 pumps down to process pressure significantly faster than conventional box coaters, the firm says. With pumping capacity of 39,000 liters per second, the system can reach 5E-07 Torr faster than the FC-2800, reducing production time lost waiting for the system to get to process pressure and increasing the number of batches that can be run per day.
The system incorporates Temescal's Auratus deposition process enhancement methodology, a proprietary optimization methodology for lift-off electron-beam evaporative coating that incorporates patent-pending technology to achieve what is claimed to be unprecedented levels of uniformity, precision, and collection efficiency. Auratus enables Temescal system users to coat wafers with near-perfect uniformity, resulting in more consistent, better-quality products and fewer defects, adds the firm. The Auratus methodology also has the capability to increase the effective deposition rate, enabling increased throughput.
Temescal introduces UEFC-5700 electron-beam metallization system for compound semiconductor applications
Tags: Temescal Electron-beam metalization
Visit: www.temescal.net
Visit: www.ferrotec.com