27 June 2014
EPC launches wireless power transfer demo system operating at 6.78MHz
Efficient Power Conversion Corp (EPC) of El Segundo, CA, USA, which makes enhancement-mode gallium nitride on silicon (eGaN) power field-effect transistors (FETs) for power management applications, has introduced demonstration boards for wireless power transfer in what is claimed to be an innovative high-performance topology; zero voltage switching (ZVS) Class-D. The EPC9506 and EPC9507 amplifier (source) boards utilize the high-frequency switching capability of EPC gallium nitride transistors to facilitate wireless power systems with greater than 75% efficiency.
Wireless power transfer
The popularity of highly resonant wireless power transfer has increased over the last few years, particularly for applications targeting portable device charging, says EPC. The end applications are varied and evolving quickly from mobile device charging to life-extending medical implementations and safety-critical hazardous environments.
The requirements of wireless energy transfer systems include high efficiency, low profile, robustness to changing operating conditions and, in some cases, light weight. These requirements translate into designs that need to be efficient and able to operate at high switching speeds without a bulky heat-sink. Furthermore, the design must be able to operate over a wide range of coupling and load variations. The fast switching capability of eGaN FETs is ideal for highly resonant power transfer applications, claims EPC.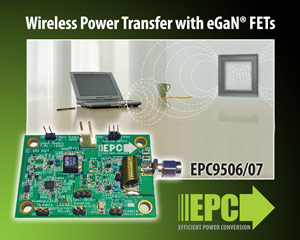 Amplifier demonstration boards
The EPC9506 and EPC9507 are high-efficiency A4WP-compliant zero voltage switching (ZVS), voltage mode Class-D wireless power transfer amplifier (source) boards capable of delivering up to 35W into a DC load while operating at up to 6.78MHz. The boards feature the 40V EPC2014 (EPC9506) and the 100V EPC2007 (EPC9507) eGaN FETs. Both boards are configured to operate in either a half-bridge topology (for single-ended configuration) or full-bridge topology (for differential configuration) and include the gate driver(s) and oscillator that ensure operation of the boards at a fixed frequency.
The EPC9506 and EPC9507 demonstration boards are priced at $418.95 each and are available for immediate delivery from Digi-Key.
System demonstration kits
In addition to the stand-alone amplifier (source) boards available now, EPC will soon be introducing a family of full system demonstration kits. The full kits include the amplifier (source) board, a Class 3 A4WP-compliant source coil (transmit coil), and a Category 3 A4WP-compliant device coil with rectifier and DC smoothing capacitor.
EPC presenting GaN technology for wireless energy transfer at PCIM Asia
Tags: EPC E-mode GaN FETs
Visit: http://digikey.com/Suppliers/us/Efficient-Power-Conversion.page
Visit: http://epc-co.com/epc/Applications/WirelessPower.aspx