4 June 2014
API debuts broadband GaN power amplifier drivers
In booth #1515 at the IEEE MTT-S International Microwave Symposium (IMS 2014), API Technologies Corp of Orlando, FL, USA, a designer and manufacturer of systems, subsystems, modules and components for RF, microwave, millimeter-wave, electromagnetic, power and security applications, is debuting a line of gallium nitride (GaN) drivers to provide a complete, front-to-back amplifier solution for applications requiring high levels of gain and output power.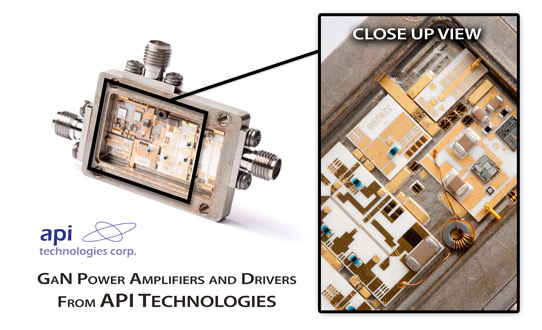 The hybrid-based power amplifier drivers are an extension of the firm's broad RF and microwave amplifier product range, which includes small-signal, low-noise, and high-power-output products, for commercial, military, medical and industrial applications.
Operating at frequencies up to 26GHz and with a broad range of output levels from 500mW to 500W, API's GaN power amplifier drivers are suitable for applicationing includes radar, communication transmitters, jamming systems, optical drivers, and medical imaging electronics. Their broadband capabilities and rugged architecture suit use in harsh environmental or weather conditions, such as communications systems in developing countries or field-deployed military equipment.
The drivers are manufactured using in-house thin- and thick-film technologies, as well as surface-mount technology (SMT) using a void-free die attach processes. Leveraging a mixed SMT and chip & wire (hybrid) process ensures high reliability and stability in a highly compact, hermetically sealed package, says the firm.
"With the ability to operate without damage over a wide range of input and output VSWR conditions, these power amp drivers are ideal for a variety of high-powered amplifier applications, including both API-designed and customer-designed power amplifier products," says Dennis Barrick, API's technical marketing manager, RF/Microwave & Microelectronics (RF2M-US). Drivers and power amplifiers are offered in class A, AB linear and C designs.
Full environmental screening and 100% electrical testing over temperature is available to ensure compliance with customer specification requirements`.
Tags: API Technologies GaN power amplifiers
Visit: http://micro.apitech.com