24 January 2014
McGill orders Veeco GENxplor R&D MBE system for nitride light-emitting and power electronic devices
Epitaxial deposition and process equipment maker Veeco Instruments Inc of Plainview, NY, USA says that McGill University in Montréal, Québec, Canada has ordered a multi-chamber GENxplor R&D molecular beam epitaxy (MBE) system for its Electrical and Computer Engineering Department, as part of a research grant from Canada's Foundation for Innovation.
Launched last August, the GENxplor is a fully integrated system that deposits high-quality epitaxial layers on substrates up to 3" in diameter and is suitable for compound semiconductor research on a wide variety of materials including arsenides, nitrides and oxides.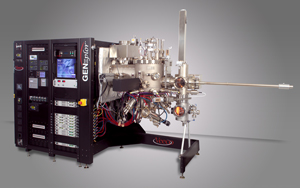 Picture: Veeco's GENxplor R&D MBE system.
The GENxplor will be used by Dr Zetian Mi and his team for the development of nitride materials in light-emitting and power electronic devices. Nitride materials have demonstrated significant advantages over traditional silicon-based power electronics devices using high power and high temperatures, notes Veeco. As a result, nitride materials are attracting investments to develop new devices and processes for this emerging market.
"We are excited about the impact that Dr. Mi and his team will have on the development of more efficient power electronic devices using Veeco's new GENxplor," comments Jim Northup, VP, general manager for Veeco's MBE Operations. "The GENxplor, currently nominated for a CS Industry 2014 award, has quickly become the R&D system of choice for leading research institutions," he adds. "Its modular and flexible design allows multiple deposition chambers, which made it an ideal fit for McGill University."
The GENxplor brings to market a low-cost, vertically oriented reactor. A single-frame cantilevered design with fully integrated electronics and controls not only reduces the footprint by 40% compared to other systems, it is reckoned, but also improves the usability, serviceability, and installation time. When coupled with Veeco's bellows-free retractable sources, the system allows for virtually uninterrupted operation, allowing users' more time to focus on research, says the firm.
Veeco to ship first GENxplor R&D MBE system to University of Oklahoma
University of Nottingham buys GENxplor R&D MBE systems for optoelectronic research
Veeco launches GENxplor MBE system for compound semiconductor R&D
Visit: www.veeco.com/genxplor
Visit: http://people.mcgill.ca/zetian.mi
Visit: www.innovation.ca