29 January 2014
Samsung boosts efficacy of chip-on-board LED packages; adds 3500K version to LC series
South Korea's Samsung Electronics Co Ltd says that, using its phosphor technology and chip fabrication techniques, it has raised the light efficacy for its chip-on-board (COB) family of LED packages to what is claimed to be the highest in the industry. The LC013B, LC026B and LC040B feature a compact light-emitting surface (LES) with high light output that is designed for use in high-performance LED products.
The improved COB-type LC series offers a light efficacy of 130lm/W at a correlated color temperature (CCT) of 3000K and 143lm/W at 5000K with a color rendering index (CRI) of over 80. This represents a significant improvement from the light efficacy of 120lm/W at 3000K and 129lm/W at 5000K, respectively, that Samsung has been offering with its LC series since April 2013.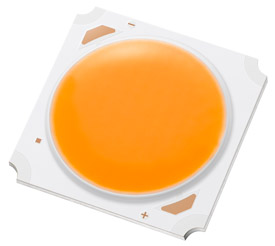 Picture: Samsung new COB family of LED packages.
Samsung's LC series is also Zhaga-compliant, making the packages convenient for assembling most LED lighting products. Samsung's latest LC series is hence expected to be applied in a wide range of interior LED lighting applications, including downlights, spotlights and directional retrofits such as MR/PAR lamps.
In addition, by leveraging the chromaticity control standard 3-step MacAdam ellipses, the LC series offers high color uniformity and light quality, claims Samsung. The packages also provide low thermal resistance and superior heat dissipation (which enable high reliability) and have completed LM-80 testing (the test method for lumen maintenance developed by the Illuminating Engineering Society).
The LC series has been available in 2700K, 3000K, 4000K and 5000K versions, with a 3500K version now added. Samsung's latest LC series also offers a diversity of wattages (13W, 26W and 40W versions, depending on the LED product with which the packages are used).
The LC013B, LC026B and LC040B with improved light efficacy will be available on the market in February and will be updated to have a CRI above 90 in first-half 2014.
Samsung launches high-efficacy chip-on-board LED packages
Visit: www.samsung.com