8 January 2014
Epistar launches high-efficiency 850nm IR LED
Epistar Corp (Taiwan's largest LED chipmaker) says that lots of forward-looking technologies have been developed and now applied to LED chip production, such as novel transparent conductive thin film, compound mirror structures, and a new epitaxial structure design for reducing the absorption of light. The new technologies will raise light extraction efficiency and LED performance, says the firm.
Recently, Epistar Lab has made improvements in infrared products and set what are claimed to be new records for the LED industry. According to the latest data, the SFPN42 infrared LED (which has a chip size of 1mm x1mm) has achieved wall-plug efficiency of 75% with an operating current of 40mA and of more than 70% at 350mA. Power exceeds 1W, and has reached 1027mW with an operating current of 1A.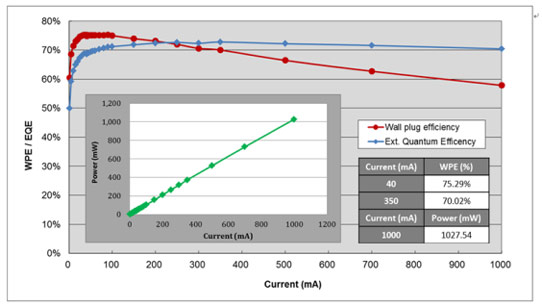 Currently, infrared LED products are adopted mostly in security monitor, smart touch panel and wireless communication systems. In future, Epistar aims to push the products into other high-potential market, says the firm.
Visit: www.epistar.com.tw