28 January 2014
Block Engineering launches ultra-miniaturized QCL products
Block Engineering LLC of Marlborough, MA, USA, which makes quantum cascade laser (QCL) and FTIR spectrometers for commercial, industrial, military and government users, has launched two ultra-miniaturized QCL products, the Mini-QCL module and the LaserTune Infrared Source.
The Mini-QCL is a widely tunable QCL module for original equipment manufacturers (OEMs), weighing only 75g (~2.5oz). The next-generation LaserTune infrared source has been miniaturized to a compact (16.5cm × 12.7cm × 11cm) wirelessly controllable system, while offering what is claimed to be the widest contiguous tuning range on the market (greater than 1000cm-1).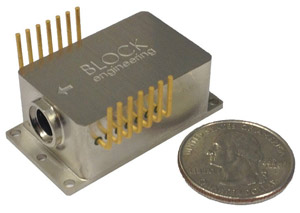 Picture: Block Engineering's Mini-QCL OEM quantum cascade laser module.
"We are receiving tremendous interest in these new products from universities, corporate R&D labs, and a wide range of OEMs," claims Scott Riggi, VP of sales. "Block has now introduced the world's most compact, full-function QCL source with the widest contiguous spectral tuning range. The demand for these devices in gas sensing, metrology, and academic and corporate R&D applications is significant," he adds.
"These two new products are the result of Block's innovation spirit, engineering strength, and optical packaging capabilities," says CEO Petros Kotidis. "They meet a strong market need for ultra-compact, ultra-widely tunable sources for OEM integration and all-in-one laser sources," he adds. "These devices are now enabling new applications, which were not available to the past generations of QCLs due to size, ruggedness and performance limitations."
The Mini-QCL module is available in spectral ranges greater than 250cm-1 per module, and multiple modules can be combined by OEMs. The module can be used in a variety of real-time gas analysis applications requiring a mid-infrared laser source, including greenhouse-gas monitoring, automotive combustion analysis, oil and gas exploration, and air quality monitoring. It is also designed to be integrated into spectroscopic instruments, including products used in photoacoustic spectroscopy (PAS), cavity ring-down spectroscopy (CRDS), infrared microscopy, and atomic force microscopy (AFM).
As well as being significantly reduced in size and having a wide contiguous tuning range, the new LaserTune infrared source has a 2mm x 4mm collimated beam that can now be programmed to operate in several modes with a manual step, programmable step, and programmable sweep. It offers fast scan capability at 25cm-1 per millisecond, and the source can be programmed to emit pulses from 20ns to 500ns, while maintaining a duty-cycle up to ~30%. Computer control of the LaserTune is via wireless or Ethernet/HDMI with analog and digital control for monitoring and controlling the laser wavelength.
Block is demonstrating the new products at SPIE's Photonics West event (booth #5333) and BiOS event (booth #8507) in San Francisco (1-6 February).
Tags: QCL
Visit: www.blockeng.com