26 February 2014
Plessey appoints chief commercial officer
As it gears up to grow global sales of its LED technology, Plessey Semiconductors Ltd of Plymouth, UK has appointed Dr Jose (Joe) Lopez as chief commercial officer (CCO). Reporting to Plessey's CEO Michael LeGoff, he will assume overall responsibility for the commercial and customer aspects of the organization, with the main focus being to grow Plessey's LED sales.
Plessey says that, during a 25 year career in the semiconductor industry, Lopez has been a key player in the solid-state lighting (SSL), communications and consumer market segments.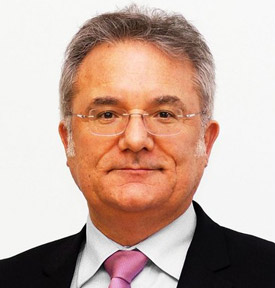 Picture: Plessey's new chief commercial officer Dr Jose Lopez.
"Having spent the last three and a half years at Cree in a leading global sales role, Joe brings a wealth of LED commercial experience, key customer contacts and senior-level relationships within the SSL industry," comments LeGoff. "Joe will drive new levels of customer engagement and revenue growth as we move into commercializing our LED technology."
Plessey has developed a process to produce high-brightness LEDs at what is reckoned to be a fraction of the current cost. Its gallium nitride on silicon (GaN-on-Si) LEDs are produced using standard silicon-based semiconductor manufacturing processes, in contrast with existing generations of LEDs that use expensive sapphire and other materials.
The firm's aim is to drive global uptake of its patented MAGIC (Manufactured on GaN-on-Si I/C) technology as a cost-effective alternative to existing lighting systems, and expand its UK manufacturing facilities in Plymouth.
"Plessey is one of UK's leading technology brands and I believe it is years ahead of the industry with its proprietary GaN on silicon process technology," comments Lopez. "Plessey's LEDs offer performance comparable to that of sapphire, but at a substantially lower cost," he comments. "This makes the Plessey LEDs ideal for high-volume, cost-sensitive applications such as linear fluorescent tube replacement, indoor commercial and retro-fit bulb markets that characterize the high-growth general lighting segment."
Lopez has a degree in Computer Science and a PhD in Computer Engineering from the University of Sussex and an MBA from the Open Business School. He has lived and worked in the UK, Germany, France and Spain and speaks a number of European languages.
Tags: Plessey GaN-on-Si HB-LEDs
Visit: www.plesseysemiconductors.com/magic-plessey-semiconductors.php