18 December 2014
Anadigics expands WiFi infrastructure portfolio with 4900-5900MHz power amplifier
Broadband wireless and wireline communications component maker Anadigics Inc of Warren, NJ, USA has expanded its family of 802.11ac 5GHz WiFi power amplifiers (which includes the AWL5905 launched in May 2013 and the AWL5910 launched in May 2014) by launching the AWL5911, which is optimized for 802.11a/n/ac Wave 2 WiFi infrastructure and multimedia applications including access points, routers, media gateways and set-top boxes.
Operating in the 4900-5900MHz frequency band, the AWL5911 delivers a combination of linearity, efficiency, gain and thermal characteristics, while minimizing external components. These performance and integration advantages help 802.11ac Wave 2 solutions to enable multi-user multi-input/multi-output (MU-MIMO) functionality, take advantage of 160MHz channels, and make use of an additional transmit spatial stream, says the firm. When employed, these features can provide higher data throughput at greater range and coverage than existing Wave 1 solutions, it adds.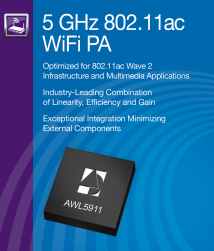 "The new features available with Wave 2 promise to enrich the experience for WiFi users connected to an expanding array of infrastructure and multimedia devices," says president Dave Cresci. "Anadigics' family of 802.11ac WiFi power amplifiers is enabling this trend by delivering exceptional linearity, output power and gain to enable ultra-high data throughput," he adds. "The AWL5911 supports high-performance multi-user MIMO designs, while reducing BOM [bill of materials] costs and minimizing PCB space requirements… These advantages are being recognized and valued with specification on leading reference designs."
Anadigics' family of 802.11ac WiFi power amplifiers for infrastructure applications leverages its patented InGaP-Plus technology and unique design architectures to offer performance and integration. The AWL5911 PA provides 33dB of linear power gain (bettering the AWL5905's 30dB and the AWL5910's 31dB) and a low error vector magnitude of 1.8% at 22dBm output power (matching the AWL5910, and bettering the AWL5905's 2.0% EVM at 19.5dBm). This ensures stable, reliable high-throughput WiFi connectivity in the toughest 802.11ac modulation formats, says the firm. The AWL5911 also features an internal digital PA enable interface that eliminates the need for an external buffer amplifier, as well as a high-accuracy  integrated detector that facilitates accurate power control over varying load conditions (3:1 VSWR) and extends the usable detector dynamic range. This level of integration reduces surface-mount passive components and simplifies RF design, saving board space, reducing the bill of materials, and accelerating time-to-market, says the firm.
The compact 4mm x 4mm x 0.8mm QFN package also incorporates RF ports internally matched to 50 Ohms and DC blocked to reduce PCB space requirements. In addition, a CMOS-compatible control interface improves ease of use.
These performance and integration advantages, coupled with the power efficiency and thermal characteristics, enable multiple input multiple output (MIMO) designs that consume less power and are more thermally efficient, says Anadigics.
The AWL5911 is available now in volume for production orders.
Anadigics expands WiFi infrastructure portfolio and secures design wins at key OEM
Anadigics launches 802.11ac WiFi PAs for infrastructure and multimedia applications
Tags: Anadigics
Visit: www.anadigics.com