10 December 2014
TriQuint's business development VP receives Distinguished Engineering Award
RF front-end component maker and foundry services provider TriQuint Semiconductor Inc of Hillsboro, OR, USA says that its VP of business development Glen Riley has received the Edward T. Bryand Distinguished Engineering Award from the University of Maine's College of Engineering (its highest honor for career excellence and accomplishment).
Established in 1979, the Edward T. Bryand Distinguished Engineer Award recognizes an individual "who has by his/her activities, achievements, and scholarship brought distinction to the profession of engineering". The award recognizes: achievements in engineering, research and public service; honors and publications, patents, or inventions; and other creative achievements.
"We selected Glen for this honor based on his key contributions to engineering, marketing and general management over his 30-year career in the semiconductor industry," says Dana Humphrey, dean of the College of Engineering. "In his leadership role at TriQuint, we look forward to Glen continuing to contribute to the growth of the 4G LTE market, especially with regards to acoustic filters and highly integrated RF modules."
Riley received the award on 7 November at the university's annual recognition banquet. As an electrical engineering undergraduate, he fabricated SAW filters on quartz for research in gas sensors. TriQuint is known for its expertise in applying SAW and BAW filter technology to LTE system and chipset challenges, Riley notes.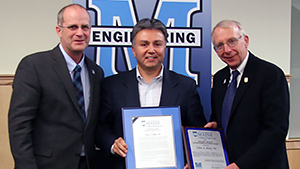 Picture: Glen Riley (center), flanked by Donald Hummels (left), chair of Electrical & Computer Engineering, and Dana Humphrey (right), dean of the College of Engineering at the University of Maine.
Riley joined TriQuint in 2003 and most recently completed a two-year assignment in Singapore as managing director of TriQuint International Pte Ltd. Prior roles include VP & general manager of foundry services and VP & general manager of TriQuint Optoelectronics. Before joining TriQuint, he was CEO of the venture-funded start-up Opticalis. He also held senior executive positions with Agere Systems as VP of optical core networks, president of Asia-Pacific sales and general manager of storage products. Previously, Riley held positions in sales & marketing at Philips Semiconductors, AT&T Microelectronics and Texas Instruments. Riley holds a B.S. degree with highest distinction in electrical engineering from the University of Maine and completed the general manager program at Harvard Business School.
After TriQuint merges with RF Micro Devices Inc of Greensboro, NC, USA under the name Qorvo Inc at the end of December, Riley will serve as general manager of Filter Solutions for the combined company.
Merger between RFMD and TriQuint expected to close on 31 December
Tags: TriQuint
Visit: https://engineering.umaine.edu/home/eb
Visit: www.triquint.com
Visit: www.qorvo.com