10 December 2014
Osram's new Ostar Stage LED boosts brightness by up to 2.6x from component surface just 30% larger
Osram Opto Semiconductors GmbH of Regensburg, Germany has introduced a new Ostar Stage LED for stage lighting that, compared with previous members of the product family, offers more than twice the lumen output but with a component surface that is only 30% larger.
The new Ostar Stage is the latest high-output addition to Osram Opto's LED product family for stage, exhibition and architectural lighting. "We are continually developing the chips and the package for the Osram Ostar Stage family so that we can offer our customers high-quality products in different output classes," says Andrew Lin, NAFTA product marketing manager LED Industry. "Our aim with this new LED is to raise the standard for moving heads in the high-output category," he adds.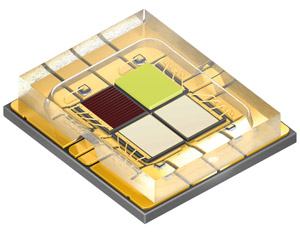 Picture: The new Osram Ostar Stage LED: much greater output from an area just one third larger.
The new Ostar Stage is Osram Opto's latest step on the path toward high-power LEDs for stage spotlights that emit a large amount of light from a small surface area, leading to more compact spotlight designs. The new version contains 2mm2 high-current chips per color that can handle a maximum of 4.5A per chip. Despite the area being twice as large as the previous chips, the 5.7mm x 6.4mm x 1.3mm package size is only slightly larger than the 4.8mm x 5.9mm x 1.23mm previously. This can enable moving heads for stage and exhibition lighting to be both more powerful and more compact at the same time.
The new Ostar Stage LED (LE RTDUW S2WP) is equipped with four high-current chips based on Osram's latest thin-film and UX:3 chip technologies: thin-film chips for 625nm red and UX:3 chips for 530nm green, 453nm deep blue and white (x=0.32; y=0.33 to CIE 1931) wavelengths. Since up to 4.5A can be applied to each chip, more light can be produced from such a small surface area. With a binning current of 1.4A, the red chips achieve typical values of 140lm, and the green chips 280lm. The 'deep blue' chip provides a light output of 1.8W. If the LED is operated at the maximum current of 4.5A, then the brightness per color increases by a factor of 2.6 (360lm in red, 680lm in green, 4.7W in deep blue, and 1040lm in white, compared with previously 290lm). The white chip in the new Ostar Stage will have a lifetime of 20,000 hours (L50/B50) at full output due to a new C2 ceramic converter, which enables it to achieve a brightness of more than 1000lm.
This family of products is suitable not only for stage lighting but also for moving heads and spotlights for trade fairs and architectural lighting, says the firm. The new Ostar Stage LED will be unveiled at the 2015 International Consumer Electronics Show (CES) in Las Vegas (6-9 January).
Osram adds multichip tunable white LEDs to Ostar Stage spotlight range
Osram launches Ostar Stage LEDs with flat glass window and AR coating for smaller spotlights
Visit: www.osram-os.com