8 April 2014
Picodeon appoints Applied Materials veteran Fergus Clarke as CEO
Finland-based nanotech firm Picodeon Ltd Oy, which specializes in thin-film coatings and surface treatments, says that Fergus Clarke has joined it as CEO.
As well as having a B.Sc, and M.Sc. in Mechanical Engineering and an MBA, Clarke brings over 25 years of global high-tech management experience. Clarke was at Applied Materials for 18 years, in leadership positions in Operations, Business Development and General Management, working in Germany, Ireland, and the USA (contributing to revenue growth from $1bn to $10bn). Subsequently, he led start-ups in healthcare and nutraceuticals, and most recently was vice president at global supply chain company UTi.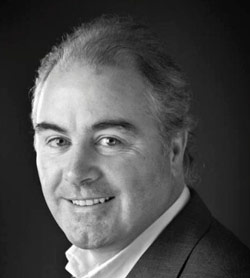 Picture: Picodeon's new CEO Fergus Clarke.

"Fergus' depth of leadership experience at Applied Materials and smaller high-growth companies will be important as Picodeon grows its business to meet the demand from our customer base," says Picodeon's chairman Nikolay Danilov.
Clarke's appointment comes at a point where Picodeon says it is experiencing strong interest from OEMs in battery, LED, optical, and life science applications. Picodeon has developed the ColdAb Series 4 thin-film deposition system (unveiled last October), which is claimed to be the world's first production equipment for the use of pulsed laser deposition (PLD) in volume manufacturing, via the patented Coldab ultra-short pulsed laser deposition (USPLD) process. The system provides multi-layer deposition capability for materials including oxides, metals and several composites. Picodeon will use the system to commercialize new applications based on a wide range of coating materials. Precious metals such as gold (Au) and oxides for the semiconductor and sensor industries are in the development roadmap.
"Picodeon's innovative technology, highly skilled team, and focussed investors have positioned them uniquely to bring new solutions to emerging application spaces," comments Clarke. "I look forward to scaling the company so that all our customers can benefit from Picodeon's capabilities," he adds.
"I would like to thank Jari Liimatainen for leading the team in the dual role of CEO/CTO until my appointment," Clarke continues. "I look forward to working closely with Jari as he now focusses on our Technology Roadmap, and developing solutions for our customers."
Picodeon unveils first automated cold ablation pulsed laser deposition production system
Picodeon to ramp up research and manufacturing of thin-film deposition tools after €5m investment
Tags: PLD
Visit: www.picodeon.com