16 April 2014
Peregrine names VP of marketing
Peregrine Semiconductor Corp of San Diego, CA, USA, a fabless provider of radio-frequency integrated circuits (RFICs) based on silicon-on-sapphire (SOS) and silicon-on-insulator (SOI), has promoted Duncan Pilgrim to VP of marketing, driving all the product marketing and marketing communication initiatives.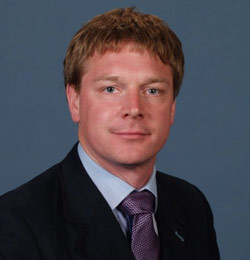 Picture: Duncan Pilgrim, Peregrine's new VP of marketing.
"Coming on the heels of a very successful UltraCMOS Global 1 launch at Mobile World Congress, we believe Duncan has the skills and expertise to continue to drive this momentum in the marketplace," says CEO Jim Cable. "Duncan's strong technical background, extensive industry experience and understanding of go-to-market strategies make him an ideal fit to lead the future Peregrine marketing initiatives," he adds.
Pilgrim, a 17-year semiconductor industry veteran, joined Peregrine in 2010. Previously, he was VP of marketing for Sequoia Communications and held product, strategic and technical marketing roles at RF Micro Devices. His technical background comes from engineering positions at RFMD, GEC Plessey Semiconductor and Marconi.
Pilgrim earned a master's degree in business administration from Wake Forest University and a bachelor's degree in electronic engineering from University of Birmingham in the UK.
Tags: Peregrine
Visit: www.psemi.com