10 April 2014
Obducat launches 2nd-generation mass-production nanoimprint lithography system
Obducat AB of Lund, Sweden, a developer and supplier of technologies, products and processes based on proprietary nanoimprint lithography (NIL), has launched the second-generation SINDRE system which, due to improved performance, will be the most cost-effective NIL production solution on the market, it is claimed. The system is based on Obducat's patented SoftPress, Intermediate Polymer Stamp (IPS) and Simultaneous Thermal and UV (STU) technologies.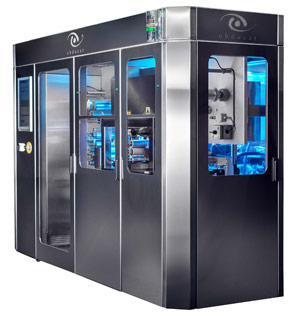 Picture: Obducat's SINDRE 400 G2 system.
The fully automated SINDRE system, which enables throughputs of up to 60 wafers per hour, provides what is claimed to be state-of-the-art performance combined with industry-leading cost of ownership (CoO). The new SINDRE integrates the latest advances in manufacturing technology, enabling high throughput and high repeatability at a defectivity level that surpass industry requirements. The first system has already been delivered and passed customer final approval in January. The next system will be delivered in third-quarter 2014.
The new SINDRE platform is a fully integrated NIL system that includes integrated fabrication of the intermediate polymer stamp. Obducat says that this is a proven and reliable process that was also integrated in the previous generation of SINDRE systems delivered over the last five years. The patented IPS technology covers the use of a transparent flexible stamp in any kind of imprint process. IPS ensures a long life-time of the stampers, minimizing stamp-related costs per imprint. The unique SoftPress technology ensures the necessary level of conformity between the stamp and substrate vital for establishing high imprint uniformity, says the firm. This enables a large process window for downstream processes, leading to high yield and low CoO. All this has been integrated into a compact system with a small footprint.
The new system also offers wide flexibility, including the possibility of using different resists and IPS materials to support customization of the imprint process. Additionally, it can run both UV- as well as thermal-based NIL processes, giving the capability to imprint structure sizes from 20nm upwards, on substrate sizes up to 200mm in diameter. "The versatility and superior performance of our patented key technologies has been extended further," says chief technology officer Babak Heidari.
Example of components that can be produced using the system are optical, photonic, LED, fluidic and other biomedical components. "With more than 130 NIL systems delivered during the last decade and several of these being used for manufacturing purposes in LEDs, photonics and biomedical applications, we are breaking new barriers in terms of performance and cost efficiency" reckons CEO Patrik Lundström.
Obducat launches automated nanoimprint litho system for high-volume LED manufacturing
Tags: Obducat Lithography
Visit: www.obducat.com