11 September 2013
Seoul Semiconductor boosts Acrich2 module efficacy to 140lm/W
South Korean LED maker Seoul Semiconductor says that its AC-driven Acrich2 LED modules are now achieving luminous efficacies of 140lm/W, nearly 20% up on previous versions. The technology has been incorporated into lighting fixtures already being sold in major North American lighting retailers and is now the highest-luminous-efficacy AC LED module in the global solid state lighting market, it is claimed.
The latest product being released is 10W and can achieve 1400 lumen in cool-white and 1250 lumen in warm-white color temperatures. It hence achieves the same level of luminous efficacy that a DC LED module of 180lm/W would offer, the firm says. The increased efficacy saves an additional 20% of power compared to the older versions. In addition, new arrangements of LEDs on the board optimize the light pattern for specialized solutions such as flush-mount ceiling lights for living rooms, kitchens and porches.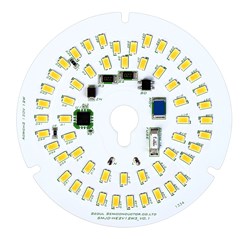 Picture: The 140lm/W-efficient 120V Acrich2 module.
Seoul Semiconductor says that Acrich2 is the world's first module with an on-board IC and multi-junction technology (MJT) LEDs that can be directly plugged into the wall without a ballast, driver or converter. Newer variations of the Acrich2 family include smart functions such as dimming inputs and surge suppression circuits, boosting added value for lighting designers.
"Efficiency and design flexibility have been dramatically improved with the latest Acrich2 modules giving 140lm/W," says VP of marketing Marten Willemsen. "Acrich2 modules have already been adopted by well-known lighting manufacturers and are selling in major retail stores," he adds. "We believe the success of the Acrich2 LED modules will increase our market share in both the indoor and outdoor LED lighting markets."
Tags: Seoul Semiconductor LEDs
Visit: www.seoulsemicon.com/en