19 September 2013
ROHM launches 80milliOhm 1200V SiC MOSFETs; one with co-packaged anti-parallel SiC Schottky
ROHM Semiconductor of Santa Clara, CA (the US arm of system LSI, discrete components and module product maker ROHM Co Ltd of Kyoto, Japan) has launched two 80milliOhm 1200V silicon carbide MOSFETs, the SCT2080KE and SCH2080KE, designed to deliver cost-effective performance. The SCH2080KE is reckoned to be the industry's first SiC MOSFET co-packaged with a discrete anti-parallel SiC Schottky barrier diode (SBD), and features a forward voltage three times smaller than that of the body diode. The combination of the switching performance, low on-resistance, and high breakdown voltage make these devices suitable as replacements for silicon power MOSFETs and insulated-gate bipolar transistors (IGBTs) in solar inverter, DC-DC converter, uninterruptible power supply (UPS) and motor drive applications.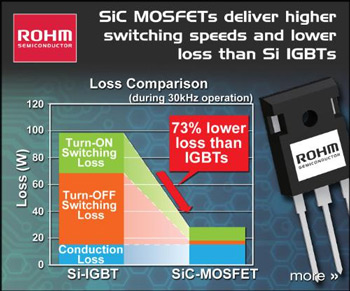 ROHM says that its SiC MOSFETs offer as much as 90% lower switching loss compared to silicon devices due to the absence of tail current and the diode's fast recovery performance. This allows designers to increase switching frequency to reduce size, cost and weight of passives. These benefits also enable the design of higher-efficiency systems by implementing simpler, less expensive cooling systems.
"ROHM's SiC MOSFETs help customers save board space, simplify layout, and reduce BOM costs," claims senior product marketing manager David Doan. "Importantly, ROHM's SiC MOSFETs are free from issues related to gate oxide breakdown, Vth stability, and degradation of the body diode during reverse conduction."
The SCT2080KE and SCH2080KE MOSFETs are available now in mass-production quantities. Also, the firm has plans to expand its SiC MOSFET product line with models with lower on-resistance and higher breakdown voltage.
Tags: ROHM Semiconductor SiC Schottky barrier diodes SiC power MOSFET
Visit: www.rohm.com/web/global/sic-mosfet