25 September 2013
Peregrine launches carrier-grade Wi-Fi switch delivering 50 times more isolation and 10 times better linearity for 802.11ac Wi-Fi access points
Peregrine Semiconductor Corp, of San Diego, CA, USA, a fabless provider of radio-frequency integrated circuits (RFICs) based on silicon-on-sapphire (SOS), has announced what it claims is the highest-performance, carrier-grade Wi-Fi switch on the market. With the highest isolation by a factor of 50, the switch (which provides support for 802.11 a/b/g/n/ac) also sets a new level for linearity, making it suitable for the fast-growing market of 802.11ac Wi-Fi access points.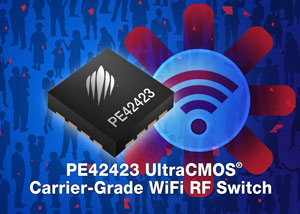 "Mobile Experts' research shows the number of carrier-grade Wi-Fi access points deployed has grown 40% this year alone," says Joe Madden, founder & principal analyst at Mobile Experts. "With the Wi-Fi market shift to dual-band 802.11ac support, we predict the market for RF suppliers – such as Peregrine – will grow even faster at a rate of 50% annually through 2016," he adds.
The rising amount of cellular-data offload to Wi-Fi networks is significantly increasing the complexity of access-point radios, says Peregrine. Most Wi-Fi access points now contain multiple radios in order to address the capacity demands of cellular data. Based on Peregrine's UltraCMOS technology, the PE42423 is claimed to be the first in its class to offer 41dB of port-to-port isolation at 6GHz, enabling multi-radio access points to perform at peak levels without interference between the radios. Exceeding the stringent 802.11ac standard, the switch also offers 65dBm of linearity to achieve higher data rates. In addition, UltraCMOS technology delivers equally high performance at either 3.3V or 5V, unlike gallium arsenide (GaAs) switches that experience severe performance degradation below 5V, Peregrine says. The switch gives networking-product designers the flexibility to operate at lower power supplies and reduce energy consumption, the firm reckons.
"Peregrine is committed to meeting the Wi-Fi data-rate and capacity demands of the future, and we are already helping networking vendors achieve unprecedented performance using this switch in their Gigabit Wi-Fi access points," says Dave Shepard, VP of Peregrine's high-performance solutions business unit.
Now shipping, the PE42423 is a single-pole double-throw (SPDT) Wi-Fi RF switch covering 100MHz to 6GHz and featuring low insertion loss (0.8dB @ 2.4GHz, 0.95dB @ 5.8GHz), fast switching time (500ns) and high ESD ratings (3.0kV HBM on all RF pins). The switch supports +1.8V standard logic control, and provides stable RF performance over a wide power supply range of 2.3-5.5V. The 3mm x 3mm 16-lead QFN package is RoHS-compliant.
Tags: Peregrine SOS CMOS SOI RF switches
Visit: www.psemi.com