2 September 2013
Peregrine launches UltraCMOS antenna tuning switch optimized for ultra-thin LTE-Advanced smartphones
Peregrine Semiconductor Corp of San Diego, CA, USA, a fabless provider of radio-frequency integrated circuits (RFICs) based on silicon-on-sapphire (SOS), has launched a single-pole, single-throw (SPST) antenna tuning switch for LTE-Advanced (LTE-A) smartphones.
The latest addition to Peregrine's series of tuning devices leverages the firm's UltraCMOS process using the HaRP and DuNE enhancements to deliver a combination of performance and integration for 4G wireless platforms.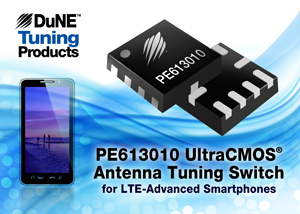 Peregrine says that its tuning products are designed to help 4G handset makers implement tunable antennas, the benefits of which include faster data throughput, smaller size and enhanced overall consumer experience. Based on Peregrine's UltraCMOS technology with DuNE and HaRP enhancements, the PE613010 antenna switch delivers what is claimed to be the industry's lowest resistance-on (Ron) of 1.2 Ohms from 700-2700MHz. This maximizes the radiated performance of the antenna, supporting higher data throughput, increased battery life and longer range for fewer dropped calls. Manufacturers can achieve this performance while also minimizing size in support of thinner-form-factor phones, says Peregrine. The PE613010 is supplied in a miniature 2mm x 2mm x 0.55mm RoHS-compliant 10-lead QFN package that requires zero external components.
"The emergence of LTE-A networks places significant RF design challenges on handset manufacturers to deliver an optimal user experience despite supporting the ever increasing number of frequency bands and higher data throughput," says Dylan Kelly, VP of the mobile wireless solutions business unit at Peregrine. "The new PE613010 antenna tuning switch helps to solve these challenges and, as a result, has already been integrated into multiple 4G handsets," he adds. "Feedback from customers has been very positive, as Peregrine's tuning solutions enable the performance gains required at the antenna for smartphones to support the full capabilities of LTE-A networks."
Peregrine says that the PE613010 features high RF power handling and ruggedness, while meeting the challenging harmonic and linearity requirements of LTE-A with HaRP technology.
With single-pin low-voltage CMOS control, all decoding and biasing is integrated on-chip and no external bypassing or filtering components are required. The PE613010 also features ESD tolerance of 2kV HBM on all pins, providing a monolithically integrated solution for tunable antennas.
Samples, volume-production quantities and pricing of the PE613010 antenna tuning switch are available now. Peregrine has also announced availability of the PE613010 Evaluation Kit.
PE613010 switch boosts antenna performance by 25% in Pantech's new Vega LTE-Advanced Smartphone
The PE613010 antenna tuning switch has already been chosen by South Korean mobile phone maker Pantech to drive performance in its new Vega LTE-A smartphone. Available for use on SK Telecom's network in Korea, the Vega LTE-A features what is claimed to be the industry's first fingerprint recognition technology, as well as the largest full HD display and battery capacity available on an LTE-A handset.
"We found that Peregrine's PE613010 delivered 1dB better performance at the antenna compared to other switches on the market," says Mr Jeong, senior RF engineer at Pantech. "This improved performance in antenna efficiency is critical in realizing the data throughput offered by new LTE-A networks while still delivering the battery life and reliability consumers expect," he adds.
"The success of our device in delivering a 25% performance improvement at the antenna allows the new smartphone to support the full capability of LTE-A networks while bringing disruptive features like fingerprint recognition to market," says Dylan Kelly, VP of the mobile wireless solutions business unit at Peregrine.
Tags: Peregrine SOS CMOS SOI RF switches
Visit: www.psemi.com