26 September 2013
MACOM launches first surface-mount L-band 90W GaN power module
M/A-COM Technology Solutions Inc of Lowell, MA, USA, which makes semiconductors, components and subassemblies for RF, microwave and millimeter-wave applications, has announced the newest entry in its portfolio of GaN in Plastic packaged power products. Optimized for L-band commercial air-traffic control, military radar and long-range perimeter monitoring applications at 1.2-1.4GHz, MACOM's new MAMG-001214-090PSM two-stage, fully matched GaN in Plastic power module scales to peak pulse power levels of 100W in a 14mm x 24mm package size, delivering twice the power of comparably sized competing products, it is reckoned.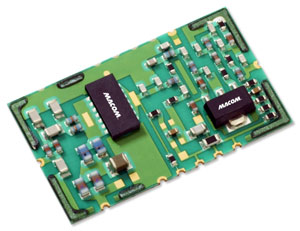 Picture: MACOM's new 2-stage, fully matched GaN-in-plastic power module.
MACOM's new high-gain GaN in Plastic power modules are claimed to be the only gallium nitride (GaN)-based modules to support surface-mount technology (SMT) assembly, providing significant cost and process advantages compared to ceramic-packaged flange-mount components, it is claimed. Delivering benefits in size, weight and power (SWaP) while enabling high-volume manufacturing efficiency, MACOM's new GaN power modules extend the performance attributes of its discrete GaN in Plastic power transistors and establish new standards for GaN module integration, the firm adds.
Under pulsed conditions, the modules deliver output power greater than 90W, with 30dB typical associated power gain and 58% typical power added efficiency. Supporting 50V operation and up to 3ms pulse width/duration for improved time on target, MACOM's GaN in Plastic power modules reduce overall power consumption and cooling requirements compared to existing options.
The module features a land grid array (LGA) pattern for enhanced thermal flow and 'True SMT' assembly. All inputs and outputs are formed on the back of the module and include edge castellations for ease of assembly inspection. The module's flexible design allows for gate and/or drain pulsing, and includes a gate voltage sense port for use in temperature compensation or pulse droop compensation. Leveraging thermal management techniques to ensure high reliability, the calculated mean-time-to-failure (MTTF) at 200⁰C is about 600 years.
"Building on a long history of providing similarly sized, very high-power LGA module solutions in GaAs, MACOM's GaN in Plastic power modules represent a pivotal evolution in GaN semiconductor technology, providing high overall power performance in a light, ultra-compact 14mm x 24mm package while enabling the greatest possible ease of assembly," says engineering director Damian McCann. "This modular, SMT-optimized approach unlocks the full promise of GaN in Plastic for radar applications and introduces unprecedented efficiencies from design to manufacturing."
MACOM's new GaN in Plastic L-Band 90W power modules are now sampling to customers.
MACOM is exhibiting in booth #169 at European Microwave Week (EuMW 2013) in Nuremberg, Germany (6-11 October).
MACOM launches 90W, 50W and 15W GaN in plastic transistors
M/A-COM Tech launches GaN RF power transistors for L- and S-band pulsed radar
Tags: MA-COM GaN RF power transistors
Visit: www.macomtech.com/gan