30 September 2013
Ascent Solar debuts EnerPlexKickr I and II
Ascent Solar Technologies Inc of Thornton, CO, USA, which makes lightweight copper indium gallium diselenide (CIGS) thin-film photovoltaic modules that it integrates into its EnerPlex series of consumer products, has debuted the latest additions to its Kickr line of personal solar chargers, the EnerPlexKickr I and II.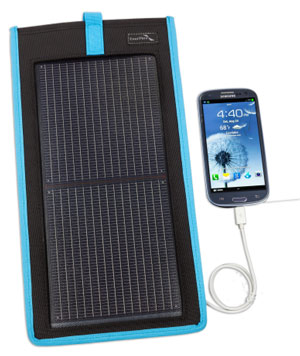 Picture: The Kickr II Charging a Samsung Galaxy S III.
The 1.5W output Kickr I is suitable for charging batteries and power banks. The 3W output Kickr II can charge most smartphones in under 5 hours. Both are lightweight, flexible and compact, allowing for easy attachment to bike, backpacks etc.
The Kickr line of personal solar chargers is uniquely enabled by the flexible, rugged, lightweight and thin form factor of Ascent's proprietary CIGS solar cells. EnerPlexKickr products suit consumers desiring a robust, durable and rugged charging solution when off the grid, unlike chargers manufactured by competitors using traditional rigid mono-crystalline solar panels which are heavy, fragile and cumbersome, says the firm.
"The Kickr I & II and the expansion of the Kickr line represents another step forward for Ascent's consumer brand, EnerPlex, as we continue to deliver rugged and innovative solutions to consumers," says VP of product development Robert Meck.
Both the Kickr I & II are available via Ascent's retail locations in the Denver metropolitan area as well as online through www.goenerplex.com.
Tags: Ascent Solar EnerPlex CIGS
Visit: www.EnerPlex.biz
Visit: www.AscentSolar.com