24 October 2013
Toshiba launches second-generation GaN-on-Si white LEDs
Tokyo-based semiconductor manufacturer Toshiba Corphas announced the first devices in its second generation of LETERAS white LEDs fabricated using a gallium nitride-on-silicon (GaN-on-Si) process. Scheduled for mass production in November, the 1W TL1F2 LEDs offer a cost-competitive alternative to current LED packages, says the firm, allowing manufacturers of general purpose and industrial LED lighting to drive down costs.
High-performance white LEDs have typically been fabricated on expensive sapphire substrates in relatively small 100mm or 150mm wafer sizes. In contrast, Toshiba has developed a process that enables GaN LEDs to be produced using more cost-effective 200mm silicon wafers, helping to reduce costs while making use of existing silicon fabrication facilities.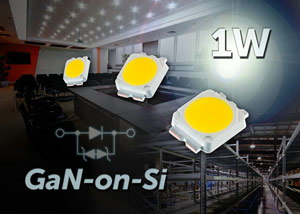 Picture: Toshiba's second generation of 1W GaN-on-Si LEDs.
Luminous efficacy of the TL1F2 white LEDs has been improved compared with the TL1F1 series by optimizing the package and increasing the optical output power of the GaN-on-Si LED chips. The TL1F2 series offers a full correlated colour temperature (CCT) range from 2700K to 6500K, with minimum colour rendering index (CRI) values of 80 and 70, respectively. Typical luminous flux of the 1W LEDs ranges from 104 lumen to 135 lumen, depending on colour temperature and CRI.
The new devices are supplied in a standard 6450 package measuring just 6.4mm by 5.0mm by 1.35mm. Typical driving current (IF) is 350mA, with a typical forward voltage (VF) of just 2.85V, helping designers to reduce system power consumption. An operating temperature range of -40°C to 100°C makes the TL1F2 series suitable for both indoor and outdoor use in applications such as lamps, ceiling lighting, street lights and floodlights.
Bridgelux sells GaN-On-Si LED technology/chip-related assets to Toshiba as it focuses on lighting products
Toshiba invests in Bridgelux to boost GaN-on-Si LED lighting
Visit: www.toshiba-components.com/LEDS