21 October 2013
SAMCO launches production etch system for SiC power devices
At the International Conference on Silicon Carbide and Related Materials (ICSCRM 2013) in Miyazaki, Japan (29 September to 4 October), SAMCO Inc of Kyoto, Japan, a supplier of etch, chemical vapour deposition (CVD) and surface treatment systems, has launched the model RIE-600iPC cassette-to-cassette production etch system for silicon carbide (SiC) processing (based on the proven RIE-600iP platform used for R&D and semi-production). The main applications are planar processing for SiC power devices, fine trench etching for SiC MOS structures, SiC through-wafer etching for via hole formation, and SiO2 mask etching.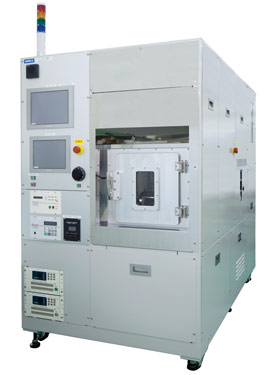 Picture: Samco's new RIE-600iPC cassette-to-cassette production etch system for SiC processing.
SAMCO says that, as a wide-bandgap semiconductor with a high dielectric voltage and capable of high temperature device operation, SiC presents processing challenges such as preserving sidewall smoothness and etching profile at high etch rates while maintaining high sufficient etch mask selectivity.
The RIE-600iPC employs a patented Tornado ICP coil capable of high-power, high-density RF plasma (at up to 3kW) under high-vacuum conditions. With a height-adjustable lower electrode and high-capacity vacuum pump (1300 liters/sec), the system enables high-speed SiC etching with what is claimed to be excellent uniformity, and can provide a wide process window.
The system holds up to 25 six-inch wafers at a time in a vacuum cassette chamber, and automatically delivers wafers to the process chamber via a transfer/load-lock chamber, providing greater processing and production efficiency.
SAMCO says that it has set its sights on becoming the leading provider of process equipment for next-generation power devices.
Visit: www.samcointl.com